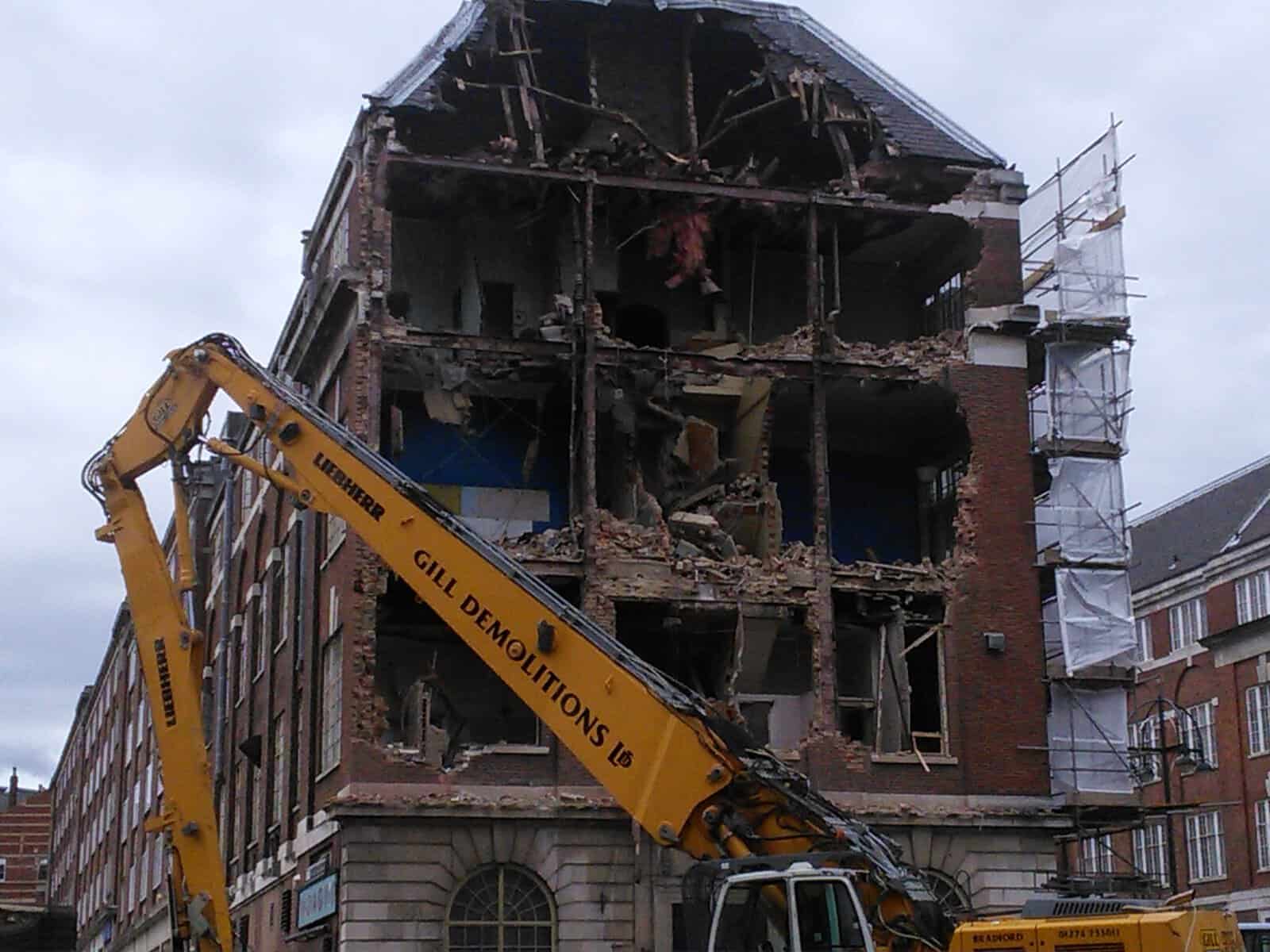 I don't normally respond to comments on other sites but I couldn't resist this one.
The Culture Vulture invited Ronnie Hughes from Liverpool's A Sense Of Place to introduce May's #cityseriesleeds film at Hyde Park Picture House, which Ronnie wrote about this morning. We were showing Terence Davies' Of Time and the City, a beautiful, occasionally infuriating, but always fascinating account of the film-maker's growing up in Liverpool and how the city has changed – not always for the better if you swallow everything Davies would have you believe. Before the film I met Ronnie at the station and we spent a couple of hours wandering about Leeds before walking up to Hyde Park. I didn't really have a plan where to go, I just followed my feet – I knew Ronnie was an avid city walker so it wouldn't be a problem.
The route we eventually took began on York Place at the hotel. We cut through a small, enclosed square and crossed St Paul's Street and Park Place, ending up going through Park Square. We crossed the Headrow and went up the side of the Town Hall, pointing out the old infirmary as we went. Our first stop for a pint and a quick chat about the evening's event was in The Victoria. Then out St George's St, over Victoria Gardens, down Albion St, through the Trinity Shopping Centre, over Briggate, through Central Arcade, calling in the Corn Exchange and walking through Kirkgate Market, around the Victoria Gate development and Millgarth and the "Arts Quarter", across Eastgate, up through the old China Town, Grand Arcade and Upper Briggate, along past Trinity Church and the Merrion Centre, then a stop in the Hedley Verity – from where we could see the new Arena and the BBC building and lots of '60s Leeds brutalism – for a bit of a rest before we tramped up through the Uni to Hyde Park. It may not have been an exhaustive exploration of Leeds, but it was certainly exhausting. And obviously anybody else would have done it different.
We chatted along the way. Ronnie often stopped and took pictures. His post is a selection of the pics he took, our chat as we walked, the question and answer session after the film, and the conversation in The Reliance pub after.
Here's the comment:
What a strange and one-sided journey. Think I have heard the anti-art stuff before from Phil – everyone's an art critic eh?. But, lets get the facts straight. The empty Corn Exchange lower floor is certainly not the result of the issues caused by the refurbishment (almost 10 years ago), but by major Leeds restaurant Anthony's closing down last year. The centre is now full of independent retail, cafes, specialist music shops etc. and is finally getting itself back up after being talked down for years – these independent retailers deserve more support than this. And Hoagy's?? A really nasty little pub that will be missed by a few, but certainly not the likes of Mr Kirby.
Three things struck me about this comment. Firstly, that anti-art insinuation. I'm assuming this is in reference to my Minerva post (the only "art" mentioned in Ronnie's piece) where I explicitly said that my criticism wasn't of the art – though I do find it execrable – it was about the gormless message the sculpture embodied. It made the city that little bit more stupid. Secondly, the "facts" of the Corn Exchange, what are they exactly? I do have a strong opinion on what has happened to the Corn Exchange, and I'm happy to debate it – but what the comment above states as a fact is just so much baseless opinion. I'd like to see the commenter try to substantiate it. And thirdly, and I think most importantly, that snide, snotty, insufferably snobbish comment in the last sentence … please, don't tell me what I shall or shall not miss either.
Actually I shall miss Hoagy's, for a number of reasons. It was a grand building on a good city street – I'll miss the symmetry and understated style of Eastgate, even though what is replacing it is far grander architecturally. It was a good and welcoming place for the sort of people the city centre is increasingly inhospitable toward – I'll miss that something genuinely Leeds, a proper piece of public space in the city centre is being replaced by something from the suburbs (a shopping mall, no matter how pretty, is not civic space, it's only there for a certain section of the population.) And it had the most used outside seating anywhere in Leeds city centre – I'll miss that the last good old wooden chair and bench sets we had, seats that were always occupied no matter the weather.
No, I won't be missing the bad beer and the worse food and the occasional sweary old bastard at the bar. But then, does every pub in town have to serve craft ales from a microbrewery in the basement and cheeses that come with live maggots to customers with regulation facial hair? Why does everywhere have to be upmarket, tasteful and terribly style conscious?
Yes, I shall be lamenting the loss of Hoagy's, another concession to the homogenisation, hipsterisation and bleeding dry of Leeds' civic history. And I'm happy to be called "one-sided" if the side I'm on is losing.