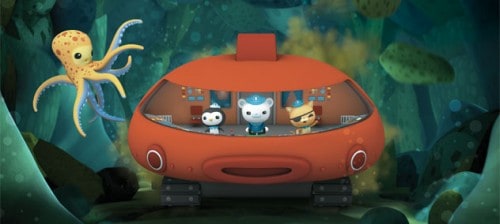 Guest post by Elizabeth Holdsworth. Elizabeth writes on her own blog at http://www.margot-and-barbara.com and tweets @margotbarbara
It is very difficult to ask small children to sit still and be quiet for any length of time. Thankfully, the creative minds behind the Great Big Family Film Day at the Leeds Young People's Film Festival recognised this very well. They provided enough activities and breaks for running around and burning off a bit of energy in and a captivating programme of films to hold the attention of even the youngest audience member.
Our day started (having missed the first showing of Octonauts) with The Teddy Bears' Picnic, and a series of short, dialogue-free films from around the world. Collectively they were sweet, beautiful, poignant and a difficult-to-describe scene involving a peasant farmer, a space rocket and some disco music made me laugh out loud. They were a great way for us to start the day, as well as being a wonderful introduction to animation and short-film making from around the world. They were a particular highlight for me and Eve (my five year old daughter) enjoyed them too.
The next film was the big one of the day for us: The Lion King. Which, amazingly, neither of us have ever seen before. I'm still not sure how, considering how many other Disney films we've seen repeatedly. Anyway, this sing-a-long version was a treat, again a brilliant way of capturing and engaging young minds and allowing them to make noise in the cinema! Despite never having seen the film somehow the songs have infiltrated my brain enough that I knew some of them to sing to, and we were lucky enough to be sat alongside other fans, who sang along all the way through and made up for our lack of voice.
We laughed, sang and cried our way through the whole film. It was mostly me doing the crying, I have to admit. Although my daughter was saddened by the death of Simba's father, she remained dry-eyed. It was perhaps the lovely popcorn keeping her mind off it, or maybe kids are just more accepting of life and death than we think. This film, with its 'circle of life' theme, is perhaps a good way of introducing the subject, although I suspect having your mother crying doesn't exactly make it easier to understand. Sorry about that, Eve.
Octonauts, a CBeebies favourite, was next. We started with a couple of activities, including a word search and the perennial favourite, colouring-in, before starting the show. Octonauts went down very well, even though I was asked why it was the Christmas special, when it was nearly Easter. To which I was able to reply 'to introduce the new Gup X, of course'. Eve was very pleased to receive a chocolate egg for her colouring and an Octonauts magazine for her word search.
Our final film of the day was Labyrinth. I had a feeling that this might be a bit too scary for my five year old and I was proved right when, about forty minutes in, she jumped nearly out of her skin and asked to leave. I remember being ten the first time I saw Labyrinth and thinking it was a bit scary, so I wasn't surprised and we left everyone else to it. I suspect many of the audience were doing the same thing as I did, reminiscing about the time they saw it for the first time…
Overall, we loved the Great Big Family Film Day. Although the cinema wasn't full (apart from for Labyrinth, when it got noticeably busier) everyone who was there seemed to be having as good as time as we did. The relaxed atmosphere and great staff and volunteers created a really welcoming feeling for the whole event. I do hope it returns to the Young Film Festival next year. If it does, so will we and I'd recommend it to anyone with a younger family as the perfect way to introduce them to film. Excellent stuff, well done.
The Leeds Young People's Film Festival runs until 5th April and there's more information on their website http://www.leedsyoungfilm.com/