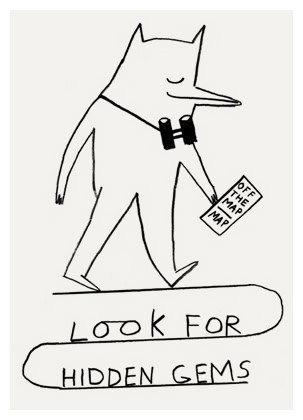 If Culture Vulture was a late night radio chat show I would definitely open with 'Hi, long time listener first time caller!' For it has been the case that I have followed Culture Vulture for a good while now and often discussed posts 'off air' as it were. I chat with Emma and I come so close to commenting but I have as yet to post a comment. But I've been given an opportunity to voice my opinions and put my two penn'orth out there.
So in my first ever blog I'd like to paraphrase JFK in his inaugural address; 'Ask not what your City can do for you – ask what you can do for your City.'
I feel that some recent discussions have become too much like party political broadcasts, people seem to be pointing out what the opposition are or aren't doing rather than focusing on what they are going to do to help the matter.
It's deflating to read these things and it seems we have a culture of beating ourselves up, constantly comparing and saying we're not as good. We look to Liverpool, Manchester London etc. and say why Leeds isn't doing this or that. Surely it is as much the responsibility of the people of Leeds as it is the Council and the other leadership bodies to make sure we're doing the best that we can. For me, being positive about Leeds is the best way forward. Let's not get hung up on our failings, let's get stuck in and start winning, as Charlie Sheen might say.
On a day to day basis I come across a lot of amazing people doing the most fantastic things in Leeds. They seem to find it hard to make their voices clear through the drudgery of negative comment. I am in the process of starting a creative space in the city called Duke Studios and this has meant I have recently been able to expand my circle of amazing influences and talented acquaintances. It's got me thinking, who and what else is out there that I don't already know about?
Discussing this with a creative collective I have had the pleasure of working closely with lately, they said they felt there was currently a "Leeds Renaissance" happening or maybe a "creative re-birth" in the city which is quite a dramatic statement. They have plans to use their own talents in film making and design to create a visual led platform on which some of the great things to come out of Leeds can be show. Leeds Made is what they are calling it and I was delighted to be asked to get involved.
We started scribbling names down of people and organisations that we knew of in the city that we considered to be doing amazing work. I very quickly had a long list that I couldn't stop adding to. I've published this list below. It's just my personal list of people that I know, have worked with, or admire, I don't attain to be some sort of creative Oracle and this is by no means an exhaustive list. It's just a starter for ten, a call to action; I want to know who's on your list?
Who do you want to rave about? If you had a megaphone with access to the world whos name would you shout……Designers, Artists, Independent Retailers, Cafes, Musicians, Chefs (is there a Leeds type Heston doing marvellous things?) Techie's, Writers,  Photographers, Fashion Designers, Thespians, Thinkers, Events or Venues? I believe the list is endless…..
I'd love people to comment and let me and the rest of the Culture Vulture readers know about their hidden gems. Let's be positive and let's see what we DO have to offer!
Jam Jar Collective – Technology players
Thunkd – Mischievous Tech Company
Studio Zeus– Fresh new Graphic Design Creative start up
Boxhead – Definitly outside of the box thinkers
Greenbean Cars – Innovative and new Eco taxis
Lord Whitney – Art Directors and 3D illustrators extraordinaire
Kitchen Sink – Top quality crafting
Drew Millward – Pencil Magician
Bettakultcha – Powerpoint on Acid
JAD Photography – The photographer who won't be pigeonholed
High Above the Streets –New concept shopping
Birds Yard – For all you independent shopping – a treasure trove of delights
Culture Vulture – The Mothership Itself
Testspace – Platform/event space for creatives
Creative Arthur – Multi tasking, hard grafting agency
Mr Yen – Perfectly precise paper products
Jay Cover –Imaginative playful Illustrator and Curator
Hebe Media – International brand ambassadors
Dan Lancaster – Grapic designer with a passion for print
Park Designed – Visual masterminds
Rabbit Hole – Branding and Comms Studio with attention to detail and creative flair
Matthew Hogdson – Master of poetry and pencil
Lee Goater – The A-Z of  Design, art direction and branding
ELSIE – The cities forward thinkers
Giles Smith– Photographer – Works Hard, Is Nice, Thinks
Leeds Gallery – Brand new independent Commercial Gallery
Stuart Childs – Electronic wizz kid
Sorted Media– Amazing all encompassing  marketing service
Rabbit portal – Magical and mystical illustrator/animator
Chris Goodwin – Graphic Designer – Perfect purveyor of pattern and print
Tommy Davidson– Illustrating Drumming genius
Eleanor Snare – Wonderful words with a passion for the city
Plus Minus Design– Concept, Product and Eco Design
Jen Holmes –Cool, Clear, Concise Communication
Dots – Super Amazing Screenprint Studio
Reetsweet – Bringing craft to the masses
Helen Robinson Marketer & copywriter- Lover of all things creative and cultural
Catalogue – Fresh, new, independent design Studio with so many talents
Brown Bread Films – Creative film company that make the most high quality short films
Witshop – Functional, Fun and Perfectly Packaged Products
Wall Art Rockers – Contemporary, graphic and modern typographic large format acrylic wall art