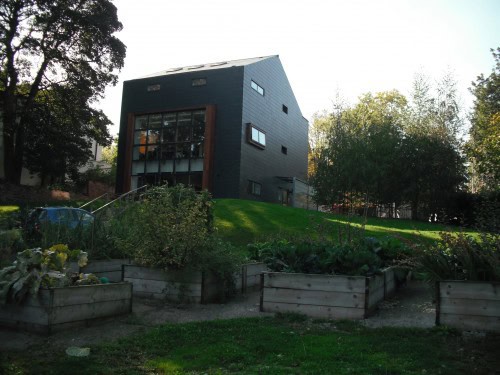 I've been studying architecture or working as an architect all my adult life and I still get excited by great new buildings. The things that really get me going are when you see something you wouldn't necessarily expect or even better if it is something different you have never seen before. This is becoming increasingly rarer to enjoy in our ever changing urban environments as budgets are squeezed and designs regurgitated. If we are not careful this could leave us with bland homogeneous towns & cities people walk around not caring about any of the new buildings they live their lives in and around, relying on old buildings built by generations long gone as the architectural symbol of their town.
However, there is still great architecture being built and it doesn't have to come at a high price or be designed by an internationally renowned "starchitect".
One of my favourite buildings in Leeds is The Black Building, in Chapeltown. It was designed by Leeds based Bauman Lyons Architects for their new offices and completed in 2006. It is situated just off the main route through Chapeltown and easily visible behind a rather depressing looking funeral directors (and not just because of their profession).
It was an early adopter of modern sustainable, design integrating many simple but effective green credentials such natural light & ventilation and highly insulated walls & roof. Internally it is predominantly open plan over 3 levels with primary views out of the large pictured framed window dominating the front elevation.
However, this is all well and good as a template for modern office design but the thing that I love most about this building is its looks. Sitting proudly on its elevated site but not shouting excessively to "look at me"! The building's walls & roof are clad almost entirely in slate, giving a sleek black exterior unique to its environment but not so overpowering to dominate the conservation area in which it inhabits. To get this apparent simple look is never easy and credit here must go for the architects detailing, removing all visibility of any unsightly external downpipes is never easy.
A special mention must also go to the allotment that is provided in the corner of the site for staff to grow their own fruit & veg. How many other people can boast this at their office?!
Finally, credit must go to the planners and locals for allowing such a modern bold design to be built. At the time it was the first new commercial building to be built in the area for over 20 years.  I really hope the locals like The Black Building and its architecture is appreciated for generations to come as a fine example of early 21st century design.
A few more photos of The Black Building can be seen here.
We'll have another favourite Leeds building for you next week. If you would like to write a review on a building you love, whether it be for its design or that it means something special to you please let me know.