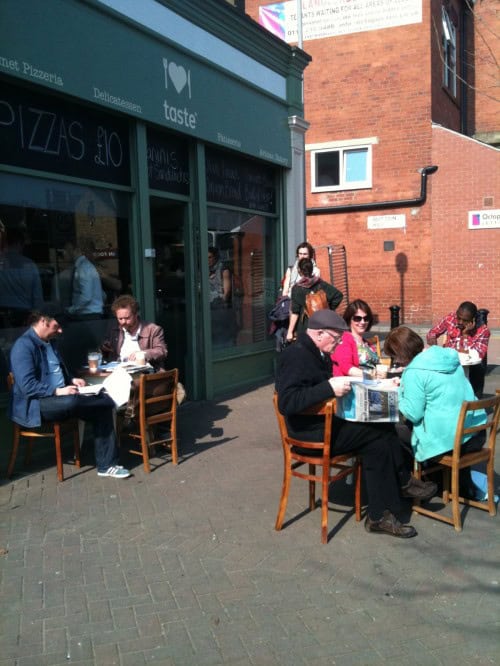 Between the takeaways and tailor shops something new has sprung up in Chapeltown. A beautiful new bakery, cafe and pizzeria called Taste.  Painted in olive green with the words artisan bakery, cafe and patisserie above its door, it is just a few steps along from something else that's new – the big shiny library, chemist and information centre also on Chapeltown Road. It's the cafe that really caught my attention though. The information centre looks great except it's the sort of place you'd expect in inner city Leeds.  But the cafe, is something different.
Inside two large gold rimmed mirrors adorn the walls with the best of the day's cakes and sandwiches penned upon them. On the others hang old fashioned coffee sacks, a massive clock and baskets of freshly baked bread.
 "Vintage country" is how owner Gary Hendrickson describes the place, and he designed it himself. My first thoughts were that it wouldn't look out of place beside the swish new shops in London's gleaming new St Pancras station.
So what a gem to suddenly land in Chapeltown. Gary himself is no newcomer to the area though. He has lived in Chapeltown all of his life and is keen to help it develop. He said: "I just wanted to give something new to the area, to create a somewhere people would really like to come.  I wanted to show the area is worthy of the investment."
Gary's attention to detail and his investment shows. People ask why he bothered to put a vintage old till in the place, but it is all part of his attention to detail and desire to create somewhere really beautiful that inspired him to do it.
Most importantly what about the food? Bread is freshly baked in the spotless kitchen around the back. Everything from white, brown, wholemeal, multi-grain, granary, onion, sun dried tomato, olive and sour dough. There is a selection of sandwiches and salads.  Pizzas are also available until 9pm at night. Coffees and teas, inside or out, this is a great new place.  And it has free Wi-fi.
Personally I don't know Chapeltown very well. I've never lived there – just driven, cycled or trundled through on the Number 2 bus. I've seen places like the Northern Dance School grow and I've seen other places go. I do admit however, to not that long ago having a little bit of trepidation about the place. I've only just recently ventured along the back streets. A little older now,  not much wiser but more experienced of north and south Leeds, I am looking at Chapeltown with new eyes, and will be going to stop off there a lot more often especially now I know where I can enjoy a nice cup of coffee in the sun.