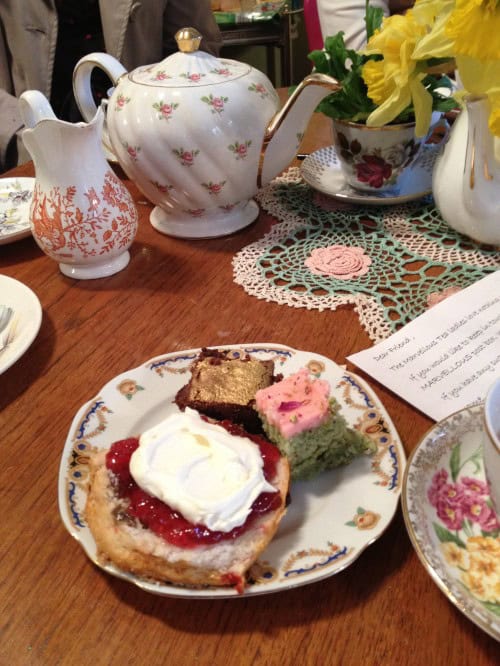 You may have seen Leeds' own Marvellous Tea Dance Company out and about before, as for the past few years they have been providing events, weddings, parties, fetes and fairs with their own unique brand of cakey vintage catering.
The Marvellous Tea Dance Co. now has a permanent base on the ground floor of the alternative department store  Bird's Yard at the bottom end of Kirkgate.
The tea room opens today but I got a sneaky peak at last nights launch party. The ground floor has been transformed with a vintage kitchen installed at the back and the main part of the room filled with retro furniture that has been painted and refurbished. The walls are covered with the type of framed prints you would expect to see in your great aunt's bungalow.
The gaudy clashing colours continue with the cakes- I sampled a pistachio and rose cake which had been tinted in contrasting hews and the double chocolate brownies came with a dusting of golden shimmer.
You would be wrong if you thought that style has won out over substance here as underneath all the glitter and sparkles, there is some accomplished baking going on, the pistachio cake being moist and delicately flavoured, and the brownies rich and gooey
In the past I have been saddened to discover some very substandard scones in the in the tea rooms of Leeds, but reassuringly the Marvellous tea ladies have bucked this trend with a deliciously moist fruit scone served in the simple traditional way with jam and cream.
As this was the launch party the menu was not available to order from but I was informed that normally tea starts from just a quid with cakes being £2-£3 each. A full afternoon tea with sandwiches, scone and cake will cost a mere £9.
If you want an analogy, think of this Marvellous Tea Room as being Betty's silly, giddy, yet still conscientious, punk rock little sister. She may live at the cheaper end of town but she knows how to have fun without letting the standards slip.
The Marvellous Tea Dance Company, Bird's Yard, Kirkgate, Leeds. Website