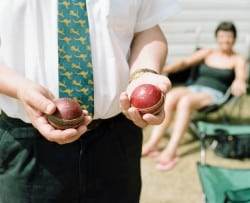 'Runs on the Board'
DoubleTree by Hilton Leeds City Centre
4 December 2013 – 31 January 2014
Free
As the second Test finishes  down under and England seek to redeem themselves after a poor start to retain that most hard won of titles, The Ashes, Leeds' cricket lovers have the chance to look back at a brighter summer of Yorkshire cricket in the warm and wifi-enabled surroundings of Doubletree by Hilton Leeds City Centre, one of Leeds's most committed advocates of the arts.
Four artists and writers – Nick Ahad, Lucy Carolan, Steve Toase and Jonny Walton – were commissioned by ROTB project manager Graham Roberts in May 2013 to capture the spirit of amateur cricket as played out by those enthusiastic over 50s bowlers, batters and fielders still taking to the pitch. Over the summer cricket season Ahad, Carolan, Toase, and Walton attended matches across the region, capturing the characters and atmosphere, both on and off the field, culminating in the production of a hard backed book of photographs and writing, and a short film.
The exhibition, located in the grand entrance of DoubleTree by Hilton Leeds City Centre, will showcase 20 large scale photographs of sun kissed spectators and bowled over batsmen enjoying each over and wicket, alongside selections of writing and a specially designed 'scoreboard' through which the film can be viewed.  Copies of the book will be available to buy from the hotel (£12.50) and online at www.runsontheboard.co.uk.
Stephen Turner, General Manager of DoubleTree, commented: "Our guests are used to seeing interesting and distinctive art work when they come to visit us and 'Runs on the Board' carries on that tradition.  We are enthusiastic supporters of the local and regional arts scene and have been bowled over by the high standard of the work on show and I look forward to welcoming visitors old and new to enjoy a googly or two with us."
Graham Roberts added: "These four talented artists have captured the special character of amateur cricket in Yorkshire and the exhibition depicts not only those who play the game, but also those essential others who prepare the pitches, keep the score, make the tea and turn up whatever the weather to offer their support. It is an homage to the community of cricket.
This is the second innings for Runs on the Board and sees a fresh set of eyes and minds inspired by a much loved game create striking work.  It's great to show the finished exhibition to the wider world in the marvellous setting of Doubletree."
The Runs on the Board project is supported by Yorkshire Building Society, Yorkshire County Cricket Club and Legacy Trust UK.