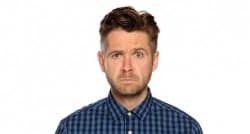 I have to admit that I'm feeling really positive about the comedy coming to Leeds over the coming months. In the past I've felt that some comedians that we should have been hosting have completely bypassed the city, for a reason I've never quite been able to tell. Maybe they just haven't had time, maybe we just haven't got the right size venues for them or maybe our venues just didn't have the availability for them.
It's been most visible post Edinburgh Fringe when I've seen someone/a collective that I've walked away thinking I want to see them again and in the city where I work and live. To have a relaxing evening in your own city where you can have a giggle is what comedy is about, isn't it?
Two comedians I saw first at the fringe that I'm not sure I could tire of seeing are Seann Walsh and Rob Rouse. Both are quite observational stand ups talking from experience yet they deliver in different ways. Seann has the air of a perpetual student, with tales of drunkenness and feeling rough but hardly giving the perception of responsibility. The last show I saw of Rob's was based around his family's dog and was of someone at a much further stage in their life than Seann. I'm very much looking forward to seeing his latest show, Life Sentences.
Alongside their stand up both comics have been known to appear on TV. Seann is a team captain on Arguemental on Dave and Rob Rouse used to present the Friday Night Project before Alan Carr and Justin Lee Collins took over. Rob Rouse's website also has a selection of videos which include The Duck Films – well known films with a duck twist (I still have 'duck in the middle with you' stuck in my head months after watching them) and Trumpet Guru lessons.
Luckily for me, both Seann and Rob are visiting Leeds on their latest tours, they're performing at the City Varieties. If you haven't seen either of them before, maybe the best place to see them is a venue renowned for its comedy?
If you're off to see some comedy in the coming months, why not tell us who you're off to see and what you like about them? Who knows, maybe we'll walk away discovering someone new that we might not have otherwise heard of.
Seann Walsh, Friday 28th September, City Varieties
Rob Rouse, Wednesday 24th October, City Varieties