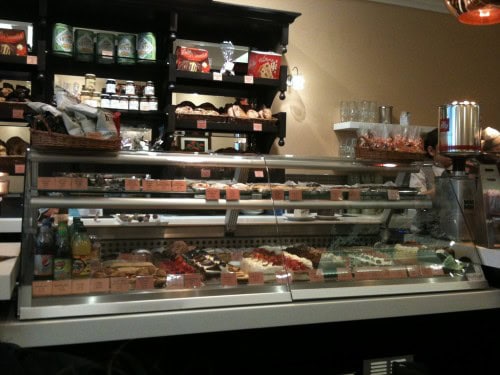 By 9am we, the family Bearman, were suited, booted and armed with a pram that should come with a long vehicle plate. Mission? To get out the house and do something interesting in Leeds on a wet and windy Saturday. We'd decided to be urban explorers  on a small budget, to look at our town through the eyes of our inquisitive children.
As usual I asked Twitter (much to the disgust of disgruntled Mr B) where could we go in the city centre of Leeds with a cumbersome buggy, a 3 month old and a fidgety toddler for breakfast? Preferably an independent cafe in the centre of town, close to the Art Gallery, Library (it was #SaveourLibraries day) and Museum. The Tiled Hall Cafe in @LeedsArtGallery was mooted, but alas for us was not open until 10am. @OutoftheWoodUK's new cafe in Granary Wharf chipped in, regretfully we'd parked the other end of town, but what a shame as they do the best Lurpak laden toast I've ever eaten! Create Cafe in Leeds Trinity Church was also suggested (@CreateLeeds) but by this time the kids were mewling in hunger, and we'd got fed up! So instead of our criteria we found ourselves in Patisserie Valerie on Albion Street.
Here follows a bit of a grumble, so skip this passage if you are not interested in gripes, as it was our choice to go in! Firstly the room is long and narrow, the cake counter packed with delicious bounty that no two year old could resist, (shame on us for relenting I hear you cry) and the prices not too pocket pleasing. On the upside, the staff were very friendly, the food though slow to arrive, very tasty (we had eggs Benedict). There was a baby changing facility/disabled toilet at the end of the room, which required careful negotiation with fellow diners to get to. Once in, changing the baby meant that my bottom kept setting the wall mounted heater off, which was actually strangely pleasant. Finally, if we'd been better prepared we'd have taken a plastic beaker, but as we hadn't it was a shame that the patisserie only had tall glass beakers for our toddler's juice, and filled it to the brim with s straw. Little children are prone to trying to get the straws in their mouths, you can guess the rest.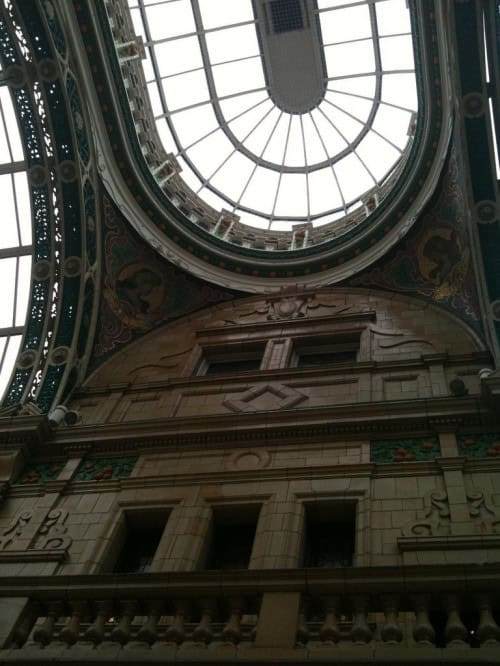 Breakfast negotiated we set off around Leeds to explore what it had to offer for families. After exploring the fruit mosaics and playing hide and seek in the doorways of the  County Arcade (adjacent to the Victoria Quarter @VictoriaQtrLds) we spent an age enjoying the two buskers on Briggate. A major highlight was the grizzly one man band with his totally mournful howling dog,  opinion on twitter divided as to love or hate of this particular offering, but our little girl loved them and could not be dragged away.
We headed off down the Headrow to Leeds Art Gallery @LeedsArtGallery and Central Library @LeedsLibraries unbelievably this had taken 3 hours, and we arrived as the crowdsourced 'Read In' was happening in the main library. From what we could glimpse half of our friends from Twitter were being filmed and watched very closely by police. We headed to the childrens section which was rammed! We were running out of toddler steam, but loved the information about the Chinese Year of the Rabbit. Our little girl absolutely loves the book 'Owl Babies' so after we read that we spotted our next urban exploration in an information rack, the Leeds Owl Trail @LeedsOwlTrail which explores the plenitude of owls  that abound across Leeds.
I'm on an quest to find a city centre eatery, which caters as much for the children as it does the adult. Some simple things would make life a little easier for parents, not least plastic beakers, child friendly cutlery and the option to have smaller versions of your meal but for a fraction of the cost. Some thought by staff to the placement of hot plates would not go amiss either. I'd prefer to frequent an independent cafe or restaurant, to bring our children up to behave and to be welcome in the same places as adults. It would be a utopian dream to think there were places that put families at the heart of what they did, but after witnessing the crowds at the Christmas market with their children, I'd wager that ' if you build it they will come'.
With flagging energy we headed home  for naps (all of us!) content that there's so much more to discover not just in Leeds but in the outskirts too. Money need not be a barrier, and if we don't frequent the stuff that is free more often we can only lament it when it's either gone, or we have to pay entrance. Leeds is by no means perfect, but if we look up from our shoes there's so much to discover.
Which got me to thinking…a new section of the website is born called #HomeTourist The idea being that we can be tourists in our own towns, if we look afresh at what is on our doorstep.  We'll be asking people to nominate their own town to explore and report back on. Using the hashtag on Twitter we can ask for suggestions, report back with pictures, go on quests, set challenges, and compile a wiki/map /blog report that can be utilised in future or added to by other people in the same town. We ran a mini experiment on Twitter with @MyLifeInLeeds this morning and it seemed to catch on, we particularly loved MylifeinLeeds' use of AudioBoo to review his exploration. By the time we'd pressed publish on this post Tessa Smith had written about her day as  a #HomeTourist in Leeds. What do you think could the idea sprout wings? What would make it work?