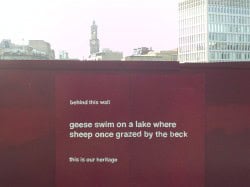 Many have commented and complained about the massive derelict hole in the middle of Bradford, and I've been one of them.  The Broadway project, led by Australian developers 'Westfield' was beset with challenges from the start – eggs were broken, there were frying pans and fires, but no-one was making any omelettes!
In October 2009 Westfield finally acknowledged publicly that, due to global recession, they were putting their plans to create a shopping centre on the 10 acre site on hold.  My husband, Gideon Seymour, Director of Bradford's arts development organisation, Fabric was there at Bradford Council's annual Regeneration Conference when Westfield's Development Director made the announcement.  Gideon asked if Westfield would be open to a conversation about making temporary use of the site for arts and cultural use.  The answer was yes – but little urgency from Westfield to arrange any meetings.
The work had stopped on site months before.  The Westfield site was a visible symbol that could only make residents and visitors feel that Bradford's regeneration just wasn't working.  It was hard to walk past the hoardings with Westfield's corporate adverts promising 'Good Times' and 'Urban Energy' without a palpable sense of irony.
So its no surprise that the hoardings were repeatedly targeted with graffiti.  The words 'Give it back to the people' were spray painted there for months.  In April 2009, the work of a marker-pen poet dubbed 'The Bard of Broadway' in the local paper was hastily cleared away.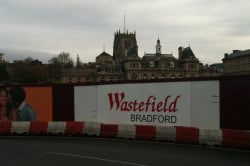 On 31st October some anonymous 'artworks' appeared on the hoardings – these were not hasty acts of rebellion but tidily displayed provocative and cheeky pieces of visual art and poetry.  They had the professionalism of an officially commissioned set of public art works.  They were intelligent, humorous, accessible, and engaging – they seemed to want to provoke a response.
When I saw these works I thought that Westfield and the Council would have them removed quickly – but they didn't.  Instead, 48 hours after the works appeared, Westfield picked up the phone to Gideon, to arrange the meeting Gideon had asked for.  Gideon also invited Bradford Council's Regeneration Department and, after several months of planning and negotiation, in March 2010  agreement was reached for £300k funding (shared equally between the Council, Yorkshire Forward, and Westfield) for Fabric's plan to open up 4 acres of the site as 'Bradford Urban Garden'.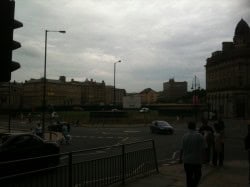 Work started quickly to make the site safe – the big hole where the shopping centre was meant to be remains closed off with hoardings, but now they're a nice shade of green, and Gideon is working to get local artists and schools to create images on them.  He said, 'It's not enough to just create an empty green space, although obviously that's an improvement.  We want to make something that gives people a  sense of ownership and a reason to linger –  through artworks and murals, installations, sculptures and garden features – and also through activities and events, with live music, theatre and film , as well as informal gatherings, busking, partying, and so on.'
Weather permitting (i.e. if it rains enough for the grass to establish) the 'Bradford Urban Garden' will be open to the public from 9th July.
It will be a bit longer before art works and events take shape, though – Fabric have been given a contract to manage the space (with the support of an Advisory Group so that local creative and commmunity experts can input into plans), but need to raise money to make things happen.  So, Gideon is busy talking to businesses about sponsoring artworks and activities, to schools about images for the hoardings and about a logo design competition, to arts organisations about the things they can bring and to anyone else who wants to make things happen in the space.
You can email him at gideon.seymour@creativebradford.co.uk if you've got an idea for something you'd like to do to turn Bradford's former 'wastefield' into a creative and animated space that local people can enjoy.  Or if you want to keep updated when events on site are planned, join the Bradford Urban Garden facebook group or subscribe to Fabric's E-bulletin by emailing fabric@creativebradford.co.uk