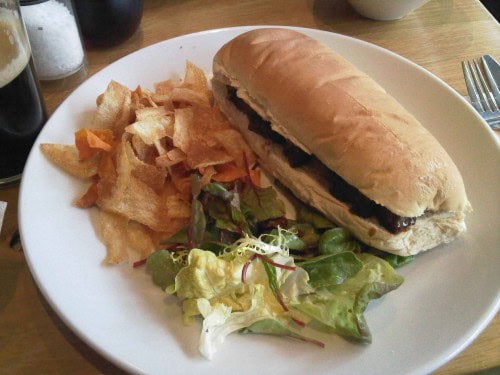 When you think of real ale do you think of beardy old men? You wouldn't be the first person, but there is a Leeds company making serious progress in turning that idea around and making proper beer seriously cool.
The Leeds Brewery based in Holbeck was founded in 2007 By Michael Brothwell and Sam Moss, two uni friends who turned their hand to brewing ale after graduation. It is the only independent brewery in the city.
As well as brewing 3 regular beers (Leeds Pale, Leeds Best and Midnight Bell) and monthly specials, the brewery owns their own pubs. I have visited all 3 in the interests of ahem…. research. All have a unifying theme of modern, comfortable interiors but also have their own individual personalities and features. The staff are all passionate and knowledgeable about the beer and are always friendly and welcoming.
The Midnight Bell in Holbeck Urban Village has a lovely outdoor area (leading onto the Wonderwood) the inside is cool and airy, but with a traditional pub feel. The manager is from Gibraltar and has a passion for stocking all kinds of world beers and ciders.
Pin is a little bar (named after the smallest available beer barrel size – a pin) tucked away in Dock Street. Its slightly more cosy than the others with comfy sofas and a shelf full of books to browse. The manager there has a special interest in spirits and cocktails. You will find a carefully selected range of spirits and a cocktail menu that consists of mixes made with ale!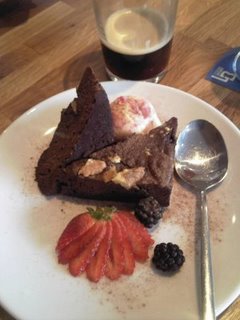 The Brewery Tap is on New Station Street round the corner from the train station. This is a large pub, clean and contemporary to compete with the other city centre venues. The main feature here is that the Leodis Larger is brewed on site in a micro brewery. You can even go upstairs and look through the window at the next batch being made whilst you are supping your pint. It's quite exciting knowing that this pub is the only place in the world where you can have that particular drink. It has a bit of a premium price but is well worth it. It's a wonderful, novel experience and a refreshing change to the trashy, sticky floored, pound a pint chain pubs in the vicinity.
Apart from the superb beer, there is also a theme of quality, locally sourced, freshly prepared food served in all 3 venues.

At a recent 'working' lunch in Pin we had the most delicious steak sandwiches, but not like any steak sandwich I have had before, the meat was covered in a coating of gravy, like the filling of a steak pie. It came with delicious home made vegetable crisps and a salad. We also got a side order of crackling… huge chunks of the stuff, covered in salt and served with a home made apple chutney. The perfect accompaniment for a meal or to munch on whilst you are enjoying your drink.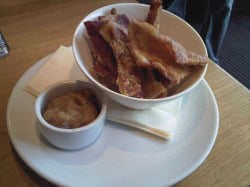 Even if you don't think you like beer, go in and have a try, you may be pleasantly surprised. My favourite is Midnight Bell, a dark mild that has hints of chocolate and caramel. The staff are all really enthusiastic about their ales and will happily let you 'try before you buy'.
I love what the Leeds brewery are doing, introducing real ale to a new generation.  I'm not old and certainly don't have a beard, yet I enjoy real ale, maybe you will too.