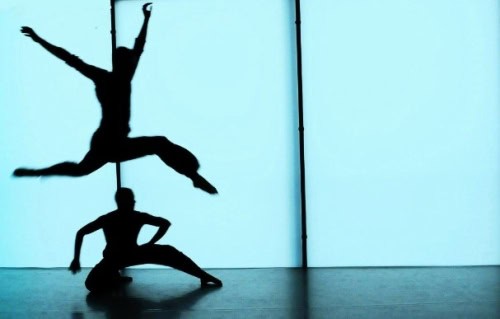 We go a year without a single dance aficionado, and a single tweet brings in a whole audience of dance enthusiasts, where have you been hiding? As luck would have it up stepped Lorelei (a siren if ever there was one) just in time to review The Score, welcome aboard!
The world of contemporary dance can seem a little bit inaccessible to the uninitiated, so it was with at least a little bit of reluctance & trepidation that my other half agreed to come with me to see The Score (Sanger-Wren Productions) at the Riley Theatre (Northern School of Contemporary Dance)  on Saturday night. He was, however, pleasantly surprised by not only the accessibility of the show to a contemporary dance virgin but also the sheer brilliance of the captivating narratives being danced on stage. The show opened with Jenni Wren's latest offering Crazy Joanna – a partner piece to 2009's Blind Passion – which explores the darker side of passion and one woman's struggle with domestic violence over three different lifetimes.
The piece deals sensitively with this delicate subject through a skilful partnership of dance and film – showcasing the work of film maker Aurora Fearnley (Little Northern Light) who's dazzling sequences give an ethereal feel to Joanna as she transitions between lifetimes. Dani Ferreira puts in a beautiful performance as Joanna, portraying with great talent the complexity of this one woman's character throughout her lifetimes – from the conflicted Queen of Castile to the modern day survivor who sheds her old life of fear and celebrates her new one in a blaze of colour.
The Score's second offering is Phil Sanger's imaginative piece, The Ghost Ship, which breaks free from a linear narrative and creates a series of fragments showing the various power shifts that occur between lovers. Sanger himself, is a delight to watch in this piece both in terms of the power & grace of his movements and the strength, joy & tenderness that he depicts on stage. Once we let go of the urge to apply a logical structure to it, this piece becomes a real joy for the audience as a discourse between both lovers and dancers.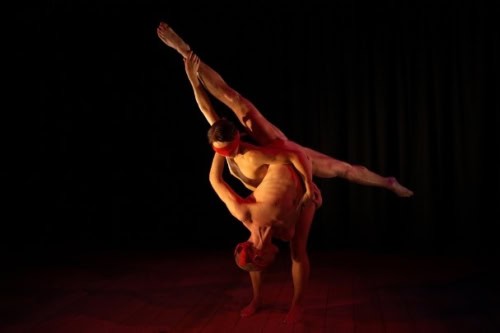 Blind Passion forms the third of this quartet celebrating a different side of passion to it's sister Crazy Joanna through a fusion of contemporary dance, tango and contact. The piece shows a pair of lovers on a journey through passion – from their initial uncertainty to the moment when, naked and blindfold, they embrace their vulnerability to tell their story. As an audience member, I was struck by the overwhelming rawness of this piece as the dancer's commit their trust entirely to one another in a way that can be difficult even for lover's in private, never mind on stage in front of an attentive and expectant audience.
Phil Sanger's second piece, Professional Widow, brings the quartet to a close and asks "Can we be neutral?". Four characters embody it, battling with their conflicting desires for pure self-expression and acceptance by the group – as an audience we see both their eagerness for this and their rejection of one another because of it. Sanger puts in another star turn as he treats the audience to a comical show & tell sequence, flirting with us and bringing a lightness to the complicated issue of 'the self'.
Overall, a fantastic evening and a superb alternative to the tedium of the World Cup coverage.
Lorelei (@lorelei_) is another worker bee in the arts, dance enthusiast & technology lover. In her spare time she blogs here on feminism, politics, the arts & the world at large.