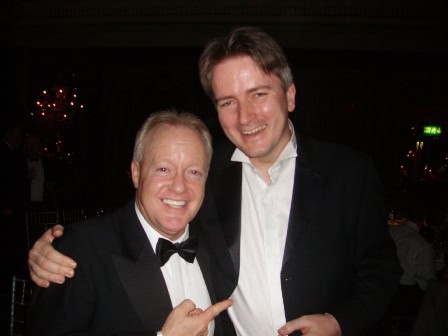 You don't have to be a 'creative' to be featured in our regular column, just passionate about creating opportunities and that is just what Marcus does. He even created his own blog so that he could post pictures of himself hobnobbing with Cherie Blair and Keith Chegwin. So what is CSR and what has it got to do with culture?
Who are you?
I am Marcus Jamieson-Pond, 6 foot 2, 42, eyes of blue (well – more like 6 foot 4, 45 and eyes of grey – but that doesn't rhyme).
What do you do?
Corporate Social Responsibility (CSR).
Say what?
It's all about how businesses interact with their employees and the outside world. The aim is to improve the quality of those interactions and to ideally bring about social and cultural change. If people are more interested in their communities, the environment, the people they work with and the needs of their customers and suppliers, it can only be of benefit to everyone. CSR has a creative campaigning streak running through it too. Save the whales! Save the children! Save the trees! Save our savings and the economy! The people I work with invest huge amounts of their own time to try to give something back to those less advantaged than themselves. Having spent 18 years in Human Resources, being a merchant of doom, before moving into CSR in 2006, I'm lucky to be able do make some of that happen and of course, have the motivation of the smiles of those people we help (and the fact that I get to meet the odd equally worthy celebrity every now and then!).
What's so great about your job?
I get paid for trying to make the world a better place. My six year old daughter said a while ago, "You're not Superman". I agree, but I am fortunate to be in a role where I can really try to make a difference for others. People in CSR are generally mavericks with a conscience and my law firm, Addleshaw Goddard, likes me to be its Jiminy Cricket. Indeed, many of the people that take part in our programme return to the office much more grounded, whilst others very much enjoy being able to spend time flying with their own outside interests, as part of their employer's community programme. A good example of how we like to join forces is the Northern Film School at Leeds Met Uni. As well as providing their students with intellectual property training and legal advice to the teaching staff, AG sponsored the production of a film, made by one of their students about Leeds Mencap, which can be used to help further fundraising. Our relationship is ongoing with the School – now filming AG's Goalball project, raising awareness of this little known disabled sport. As well as being commended by the Financial Times the relationship with the film school is also shortlisted for the forthcoming Yorkshire Forward Awards for Excellence.
Anything you'd like to plug?
Given the hole in the ozone layer has pretty much been plugged already, I'd better resort to telling you about some of our projects. Whilst we run an ongoing list of events throughout the year, it is magnified during May/June – when we run our "Big Week Out". 2009 will be the third year that this has taken place and it is a chance for people in our Leeds office to participate in one of over 35 AG organised projects taking place across the city. The aim is to create 1,000 volunteering opportunities across Leeds, London and Manchester. That's a lot of magic feathers, many of which can be found at the Addleshaw Goodard website.