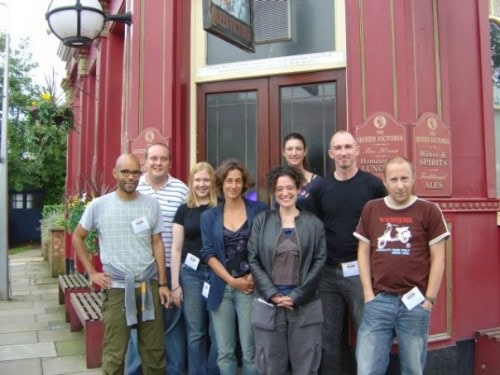 Before you ask the subject of this month's 'Don't give up the Day Job' is not an employee at The Queen Vic! No, this photo show the 2005 graduates of the BBC Writers Academy and we have blagged an interview with the lovely fella on the right, Leeds' very own Mark Catley. You may not have heard of Mark but if you ever settled down in front of the telly of an evening you may well have seen some of his work as he has written episodes of Casualty, Holby City, Doctors and Eastenders. Next time keep an eye out on those credits!!
First off, tell us some more about what you do. Let's make our readers green with envy at your glamourous job!
My official role is Series Consultant for Casualty, it just means lead writer, I work a lot with the story team and am the first port of call if a script is in trouble. In the last four years I've written about 15 episodes of Casualty, 2 Holby City, 2 Doctors and 2 Eastenders. I started as a theatre writer in 1999 and was accepted on the first BBC Writer's Academy in 2005. I still write theatre for West Yorkshire Playhouse and Development Lab at Theatre in the Mill Bradford. I also run an annual series of workshops called So You Want To Be A Writer? at WYP.
Is there such a thing as an average day in the life of Mark Catley?
Start work about 9:30, I work best on a morning and keep going until my quota for the day is done (approx 10 – 15 pages), maybe do a bit more if I'm having fun. Often got other scripts to read or episodes to watch or phone calls to take, but most days, done by 5. I used to work all hours and weekends too but then I remembered I had a life outside of TV!
Any downsides to being a BBC blue-eyed boy?
It's always nice to feel wanted but the workload is massive, also the Beeb is very much "the establishment" and I do wonder if people are judging me! But they have been fantastic with me, great training and supervision throughout, so I'm happy to be their bitch!
If you were granted the freedom of the city of Leeds what would be your first decree to brighten the lives of its citizens?
Easy! All these new City Centre developments, the ones half empty and some half finished, get all the greedy bastard developers and planners in a room with some hungry pitbulls then get a team of demolishers to flatten the lot and put some trees down instead. This city has been ruined by greed and the one great thing about the recession we're in is all these money chasing rats have been stung… unfortunately, we've been left with a city centre that looks like a giant desk-tidy.
What have you done recently to quench your thirst for culture?
TV culture obviously interests me at the moment and my thirst has been quenched by Dead Set and the recent five day Torchwood – top notch British telly. Theatre wise, there are a lot of good new writers emerging in Yorkshire and I try to get to see as much new work as I can.
Whilst you are here, is there anything or anyone that you think is worth a shameless plug?
Yes! Early November at Theatre in the Mill, BEEP! check it out, it's new and I'll be dusting off my acting boots and Casualty starts a new series in September and episodes 1 to 5 are genuinely cracking, it might just lure you back in! Writers to look out for: Tom Wells, Dom Grace & Boff Whalley, Gemma Head.