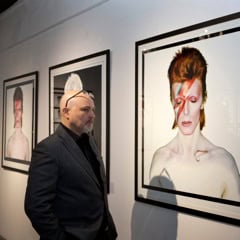 Duffy's Bowie at White Cloth Gallery; Jo Murricane overcomes her tripidation and writes about her visit to the exhibition …
When offered the chance to view and write about the Duffy exhibition of David Bowie photographs, I was both excited and slightly nervous. What do I know about art and photography? Also, whilst I'm a fan of the great David Bowie, I can't pretend to be a proper one; I like his music, and have seen Labyrinth more times than I can count, but is that valid? However, getting an inside view of this world exclusive exhibition was too good an opportunity to miss, and so along to White Cloth Gallery I went.
The galleries really are impressive; large, open rooms with high ceilings create the perfect space to show off artistic pieces. The portraits, contact sheets (sheets of lots of photos from the shoot) and album covers of Bowie stand out gloriously from the bright white background. There is something so magnetic and mysterious about the legend Bowie, and his look is so original, that he is entrancing within these large images. This exhibition highlights a piece of history; it's a rare collection of stunning photographs from a time long gone.
Duffy was an extraordinary photographer, practicing mainly in the 1960s and 1970s, and was a great innovator in 'documentary' fashion photography, revolutionising the nature of fashion imagery. He worked for many of the leading magazines and papers at the time, and as he knew Bowie's manager, he got asked to shoot for Bowie too.
The exhibition at White Cloth Gallery covers the five shoots that Duffy did with Bowie from 1972's Ziggy Stardust through to 1980's Scary Monsters. Included is the iconic album cover of Aladdin Sane, which is simply stunning and has justly become known as 'The Mona Lisa of Pop'. Alongside this, is the contact sheet from the shoot, and I found this captivating. There are several contact sheets within the exhibition and I love the mixture of unsought captures juxtaposed with the very artistically set and manipulated final result. These images show something incredibly genuine and human amongst the more painted and modelled poses and expressions of Bowie. There are glimpses and expressions within the eyes of Bowie that reveal something, almost secret, that I haven't seen in him before.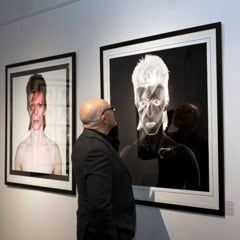 Other pieces within the collection include the Ziggy Stardust promotional pictures of Bowie in his 'Starman' outfit. These are relatively fun photographs and are bursting with colour, compared to the more composed shots from other albums and promotions. However, they were certainly not my favourite. The Thin White Duke Sessions images taken at White Sands New Mexico are epic. Shot in wide frame, with multiple exposures, Bowie is placed strong and almost forebidding in front of the dark background, with elements showing movement whilst all else remains still. This was a rushed shoot (you can see how quickly the light is fading across the images) and there was no guarantee that Duffy had captured what he was after until after the shoot was over and the film developed. Thankfully, they were a big success and the result is stunning.
The photographs are limited edition prints, with some of them signed by Duffy, and they are for sale, (though sadly out of my price range). However, just to be able to see them was treat enough for me. The exhibition ends on 15th July 2013, so get down to White Cloth Gallery quick smart if you want to have a look.
My fears of not being artistically knowledgeable were entirely quashed by my visit. Besides, I think the artwork is simply there to be enjoyed – think of it what you will, interpret it as much or as little as you like. The team at White Cloth Gallery simply want to share some fantastic pieces with Leeds and let you have fun while seeing something original.
Within the venue there is a bar and cafe area, serving locally sourced food and a selection of coffees, beers and wines. The cafe area has plush leather armchairs in which to relax, and it's a unique and interesting place to pop in for a pint. It's just behind the train station so has a perfect, central location.
I love the relaxed vibe of the gallery; you really don't need to be an expert in art to enjoy it. Just turn up and have a potter round. There are events on throughout the year (they did a viewing of The Labyrinth recently, which I missed – gutted!). Keep an eye out for what's on and make this a regular place to head to for a drink or lunch. It's innovative, interesting and offers something different to any other bar or gallery in Leeds.