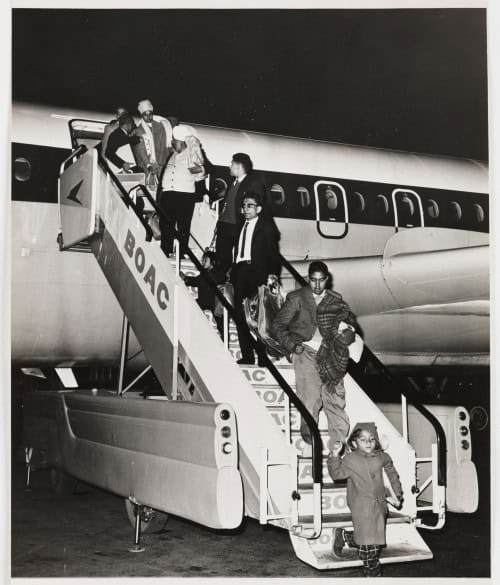 Guest blogger, Maya Parmar (@Maya_Parmar) invites us to . . .
Remember, Remember the 14th July, 40 Years since Expulsion
The prospect of spreading the word about the South Asian East African community in Britain (quite a mouthful I know) to anyone beyond the University of Leeds is very exciting, given that I spend most of my days holed up in my solitary study researching and writing about this group of people. It is also quite exciting to be talking about this group of people, and their journey, to someone other than a bunch of academics at a stuffy conference, given that my heritage lies in this migration route: my parents were born in East Africa, though our lineage reaches back to Gujarat in India.
This diaspora, the South Asian East Africans in Britain, have made quite the journey across continents and have made a real mark on British culture. Though 40 years ago this summer things were painfully tough for the Ugandan contingent of the community. Brutally given only 90 days to leave their long established homes in Uganda, these South Asians scrambled to find a new home and way out of violent Uganda. The expulsion order by dictator Idi Amin, brought to life in the film The Last King of Scotland, changed their lives forever.
A generation on this story is often forgotten and the community that has been displaced twice is often hidden amongst the South Asian community as a whole. Expulsion: 40 Years On, on Saturday July 14th 2012 in Leeds City Museum's Arena, addresses this amnesia. The free day event commemorates the 40th anniversary via the arts and culture, and recognises the South Asian East African community now settled in Yorkshire.
From 12pm until 2.30pm there will be drop in sessions open to all, but great for families with curious little ones. Colourful Gujarati dance, which travelled to East Africa and is now practised in Britain, will be showcased, and there will be an opportunity to get involved in these energetic dances of dandiya and garba. Other highlights include performances of storytelling, and interactive workshops with the storyteller himself. And we are rather excited about Yorkshire's very own Hansa, of Hansa's Restaurant on North Street, Leeds, telling us about her migration story and letting us try her Indian Ugandan culinary delights. Food, dance, storytelling and interactive workshops – an afternoon of guaranteed entertainment!
Later in the day, from 3pm to 4pm, for those adults that haven't been completely worn out by the interactive activities, national political commentator and journalist Yasmin Alibhai-Brown will reveal her experience of Ugandan life, and migration. Her performance of Nowhere to Belong is inspired by her love of Shakespeare and her personal experiences. The laugh out loud one woman play certainly offers a dark, candid insight into life as a Ugandan Indian. This performance is closed door, and the free tickets, which are unsurprisingly booking up fast, can be picked up online or on 0113 2243728.
All in all the 14th July should be a great day out, with something for everyone. And even better it is completely FREE (thanks to Arts Council England and University of Leeds funding – thanks guys)! And even better than that hopefully there'll be a bit to learn, see and do surrounding a certain culture and history that is now a part of Britain. Plus I can leave my study for the day.
For more information on times, bookings, the project itself and my doctoral research at the University of Leeds check out the website, or find us on Facebook