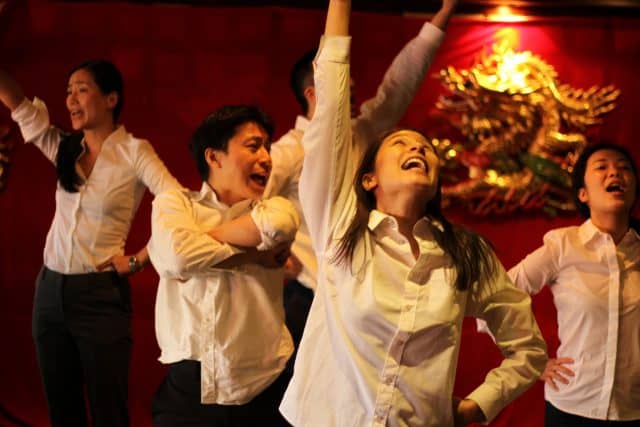 Food. Food and love. Food as a metaphor, or as a substitute for love. Food is at the heart of From Shore to Shore, a new play by Mary Cooper and MW Sun, and it's fitting that this show about the intertwining, inter-generational experiences of Leeds' Chinese community is not just set in a Chinese restaurant, but is actually performed in a Chinese restaurant.
For many people the very expression "a Chinese" evokes images of a meal rather than a person. Few of us take the time to question, even for a moment, how the waiters, cooks, drivers and others who create and deliver delicious meals from recipes originating the other side of the world happen to be in Briggate, or Morley, or the Dales. We're long accustomed in West Yorkshire to sharing the experiences of our Black and South Asian communities told on stage, but until now the human stories of our Chinese neighbours have often been overlooked. Those stories are very often linked to food, and we have a starting point in a bowl of soup.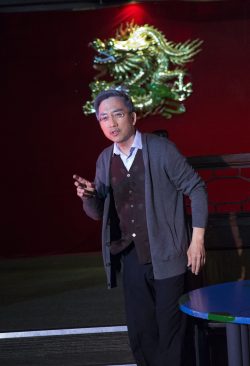 As the audience of around sixty arrive in the back function room of the Oriental City restaurant we're placed at round, communal tables seating eight or ten people. We're served soup in a traditional bowl (tofu and seaweed, since you ask, and yes it was very nice). A grey haired man appears. He's looking for someone, and seems to know his way around the restaurant.
A busy young mum, smartphone in hand, asks a waitress about booking a children's party for her son. As the chatter in the room fades away we find ourselves in the middle of a narrative spanning continents, and spanning an old man's lifetime.
The dialogue is in Mandarin, Cantonese, and English. Phrases are used, and then translated. The ear quickly tunes to the rhythm, as when listening to a Shakespeare play.
We are transported back to 1942, to a little boy born in Imperial China fleeing the Japanese in a conflict many of us in Leeds only learn about as a footnote to Churchill, Dad's Army and the Blitz in a GCSE module. A little boy who was told never to let go of his mother's hand. David K S Tse (who also directs From Shore to Shore) looks back through time to his younger self, and his yearning for a bowl of soup not unlike the one we can still taste.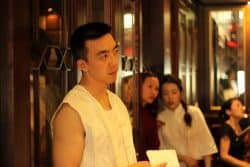 Jackie Lam delivers a nuanced and moving performance as the young Cheung Wing, whose journey ends back where we started, in a restaurant in Leeds, 75 years later.
Each generation between has its own issues. Yi Di (Dandan Liu)  is a child of the one child per family era – but she was a girl, when her parents so wanted a boy. And Mei Lan (Yvonne Wan), Yorkshire and proud of it, is shuttled like a parcel across the world, never quite feeling the love she so craves as her family strive hard to make a life and a living running a takeaway.
For her, it's gingerbread, not soup, that delivers a kind of surrogate love from a caring teacher, and songs provide an emotional shield against the racism she faces in a rural school.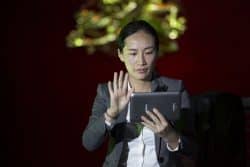 Their stories blend together in a captivating tale that gives real insight into the perceptions and struggles of a community that's often invisible – apart from the highly stylised annual celebrations of new year. There's so much more to Leeds Chinese identity in 2017 than dragons and dim sum, yet our understanding of it is often not much more insightful than the motto in a fortune cookie.  There are plenty of laughs amid the emotion as the fast-moving ensemble piece ends on a hopeful note, and the audience tuck into a selection of taster dishes to round off the evening.
There are strong supporting performances from Jennifer Leong, Paula So Man Siu, and Alan Wai. From Shore to Shore is sold out in Leeds, but will return to York later in the tour (on 9 and 10 June – tickets here) after visiting Manchester, Liverpool, Newcastle, Oxford, London, Glasgow and Edinburgh. In each city the venue will be a restaurant.
Yvonne Wan
From Shore to Shore from From Shore to Shore on Vimeo.