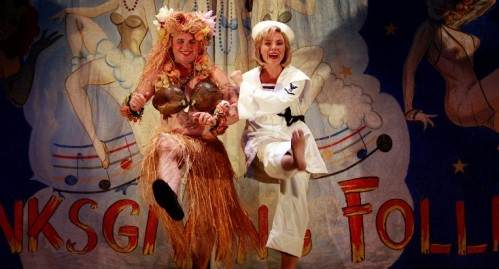 Most shows manage the odd classic showstopper but this sumptuous production of South Pacific is stuffed with epic tunes that everyone knows and loves no matter how old they are.
Rodgers and Hammerstein were at the top of their game when they churned out l'm Gonna Wash That Man Right Outa of My Hair, Happy Talk, There Is Nothin' Like A Dame and the evergreen Some Enchanted Evening.
Add those wonderful tunes and words to a decent book, and any cast would be hard pressed to make a mess of this show. Thankfully this is a top flight team, with no weak links, that really does those two great composers proud.
On a remote Pacific island naive navy nurse Ensign Nellie Forbush falls in love with mysterious French planter Emile de Becque, and all goes swimmingly until she discovers he has two mixed race children. Quelle horreur.
Meanwhile, there is a subplot involving dashing young lootenant Cable falling in love with a young Polynesian girl, and his battle with his hard wired racism. Daniel Koek's rendition of the anti racist hymn You've Got To Be Carefully Taught is suitable intense.
To a modern multi-cultural British audience anyone caring about the colour of someone's skin seems very old hat. But, remember this show was written in 1949 when just south of Broadway black actors would have had to sit at the back of the bus, or drink at separate water-coolers.
Former Eastender and Eurovision entrant Samantha Womack steals the show really capturing Nellie's good hearted naivety, and trauma when she realises she is a racist. Oh, and her strong voice proves she is a natural for musical theatre She is more than equalled by the rich tones of old hand Matthew Cammelle as the mysterious Frenchman.
It's not all gloom as comic relief comes from roguish Seabee Luther Billis and local trader Bloody Mary. Another Eastender Alex Ferns – aka dastardly Trevor – seems to be channelling Popeye at times, but his natural charm just about pulls it off. Jodi Kimura is a natural comic, but she really gets to the sadness behind Happy Talk, which is anything but.
In this show the stars are only as good as the supporting actots and the male chorus absolutely nails a brilliantly choreographed There Is Nothin' Like a Dame which lights up the first half.
This show has it all – timeless classics, amazing sets, a strong cast, a dark underbelly, real chemistry between the leads – so you would as stupid as the racism it attacks if you missed it.
• South Pacific runs at Leeds Grand Theatre until Saturday 7 July.
• Box Office: 0844 848 2701, book Online: www.leedsgrandtheatre.com.