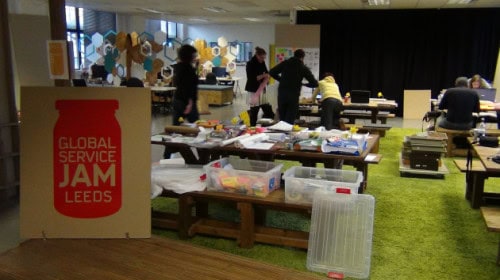 In an ideal world, events would never clash. We'd glide effortlessly, and on time, from one fascinating engagement to another. Smugly, we'd congratulate ourselves on what a smart, well-oiled machine our 21st Century city has become.
Thankfully, we don't live in an ideal world. We live in one of variety and contention, where three buses really do come along at once. That's a feature, not a bug.
So over the weekend of March 7-9 this year I'll be torn three ways.
1. First of course there's the usual rhythm of family time, the children's swimming lessons and tidying up the Lego. That's what weekends are made for.
2. But there's also the chance to join the fourth Leeds Service Jam – our part in a global weekend of colleagues, friends and strangers creating new services from scratch, inspired by a shared secret theme. Think jam as in music, not sandwiches. The event is open to service design professionals, people who manage services in the city, academics, students and anyone else who's interested – no previous experience necessary. We will link up with dozens of other jams that follow the timezones right around the world.
3. By coincidence the same weekend, Leeds is also taking part in Rewired State's National Hack the Government, a chance for citizens to hack together through the fast-growing jungle of open government data. Think hack as in making, not breaking. London, Bournemouth, Glasgow and Exeter will be getting in on the act too. You can sign up as a participant in the hacking or just to attend the show and tell of results at the end.
I'll attempt to take part in all three things at once. Thanks to Leeds City Council's expert dot-connector Phil Jewitt, our city's Jammers and Hackers should have the chance to check in with each other over the course of the weekend (though I suspect I'll be on my own with the tidying up).
One weekend. Two amazing things to do with your time in Leeds. I hope to see you at one or other!