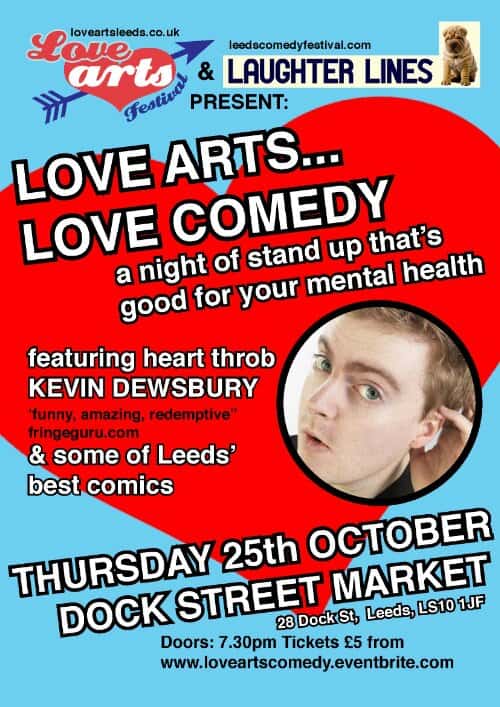 Is it OK to laugh at Mad People?
Tom Bailey (@ArtsMindsLeeds) previews Love Arts Love Comedy, October 25th 2012, 7.30pm, Dock St Market …
Is it OK to laugh at Mad People? Don't be stupid, of course not. Unless you're a professional comedian with a valid stand-up license. Kevin Dewsbury encourages you to laugh at people with mental health issues. Well, one person in particular. Himself. His show, "In … Sane" tells the story of his breakdown and his experiences with hallucinations, psychosis and the NHS. It is, apparently, 'a funny story that's worth telling. A cleverly structured tale, amazing, redemptive and powerful' (Fringeguru.com)
Other comedians have a link with mental health too. Stephen Fry's always banging on about it. He has a diagnosis of Bipolar Disorder and he champions mental health awareness. But I can't find any evidence of him using mental health as a subject for his humour, aside from the odd reference in ancient sketches. David Walliams spoke about his depression on Radio 4 recently. Powerful stuff, but does he address mental health in his comedy? Little Britain was hardly a paragon of political correctness. Every week BBC4 screens a drama about a comedian who hid their depression with chuckles. Kenneth Williams, Frankie Howerd and Tony Hancock are amongst the many that have been portrayed as tortured clowns, to the extent where one assumes this is true of all comics. We know Les Dennis was depressed but was Russ Abbot? He seemed fairly cheerful when he was singing 'Atmosphere' (a personal favourite). So: the bigger the laugh, the greater the heartache? But comedians don't often address their own mental ill health in their work.
Ruby Wax is an exception. She recently became a poster girl for mental health and does a show about her illness. During the show, 'Losing It', she encourages people to share their experiences. Ruby Wax is funny; she came to Leeds for an NHS do last year and made us all laugh. My favourite example of a comedian who isn't afraid to tackle big subjects in her stand up is Joan Rivers. "My husband killed himself," she confesses. "And it was my fault. We were making love and I took the bag off my head." But lines like that are rare. Are people afraid to talk about their own issues on stage? Or is mental health it just not funny enough? If you have any more examples of comics using their own mental health as comedy material, do let us know.
So, is OK to laugh at mad people? Joan Rivers again: "As comedians, we are all laughing because life is so horrible," she says. "Life is so difficult and I cope with it by making jokes about absolutely everything. You have two choices: laugh or die."
Which will you choose? If you choose the former you'll definitely want to see Kevin Dewsbury when he performs in Leeds at Love Arts Love Comedy. He's headlining and a host of other Leeds based comics will be appearing. Guaranteed to improve your mental health! It's part of the Love Arts Festival, which encourages people to discuss the links between creativity and mental well being. The gig has been co-produced by Laughter Lines, Leeds Comedy Festival. I'll be there. Come and tell me a joke.
Tickets: £5 at loveartscomedy.eventbrite.com or at Dock Street Market
www.loveartsleeds.co.uk/event/love-arts-love-comedy
Tom Bailey, Love Arts Festival