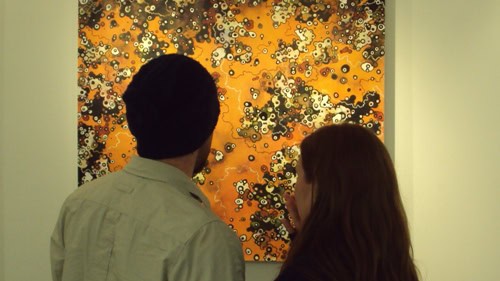 Walking into the Brahm Gallery is like walking into no other gallery I've been in before.  It is certainly the smallest dedicated arts space I've seen in my travels but with a clever use of the room and staggered display surfaces you can fit a surprising amount of work onto the walls.  The main reason this Gallery is like no other I've been in is the fact it's situated within the Brahm offices in Headingley.  So in-between taking in the art you are gifted with the occasional voyeuristic glance into the offices of a full service communications agency.  I became acutely aware of this, sipping the cheap opening night white wine, as one of the Brahm creatives danced in front of me and disappeared away as quickly taking a short cut through the gallery space.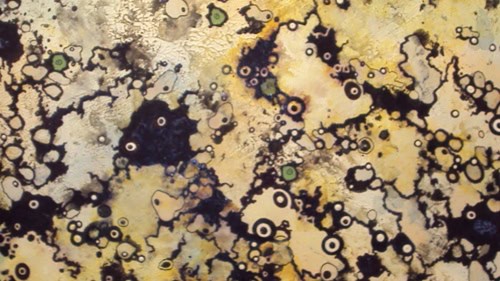 The latest exhibition is the work of the young artist James Moss, who graduated from the Manchester School of Art in 2004 and has lived and worked over the last few years in Manchester, Cambridge, Bristol and Tokyo.  This series of work has taken influence from his time in Japan and has been completed over the last four years.  Each piece took a period of months to complete, giving them a seemingly organically grown quality.  What does stand out is the level of detail and the intricacy of the work.  The layers of colour, developed in mixed media, draw you in and could easily be explained as generations of life in a Petri dish.  The use of colour in some is more obviously influenced by the Orient, the repeated use of pinks and whites reminding me of the Japanese reverence of blossom.  However, other pieces play faithfully with the colour scale, pleasingly warm , engaging and chromatically coherent.  I luckily came down to the preview night so had a chance to speak to the artist himself. James came across as a delightfully unassuming chap who talked me through the process and creative journey of the work on show.  He explained that it took time to create each piece – sometimes working on several at once – and was refreshingly honest when he spoke of how he was often unsure of how each piece would look complete after this extensive process.
The Brahm Gallery is open to the public on weekdays (except bank holidays) from 9:30 am to 5:00 pm.  If you have the time I would wholly recommend you come down to view this exhibition, the works deserves time to enjoy and are available to purchase.  In short?  If you are in Headingley during the day and are interested in new and different art come down and check this out.