Hi Sandra we are honoured to have you design July's banner, how come we got so lucky?
As the Elvis song goes "You were always on my mind, you were always on my mind…".
It seems quite a long time ago that we were introduced to each other last summer. I think the wonderful guys of Sky Larkin had a part in that. Then it was all about my book 'The Bumble Bear and the Grizzly Bee' and we kinda stayed in touch since. Now through the power of twitter we are reunited! Yeah! I count myself lucky to be featured on The Culture Vulture. You do a beautiful job here! See! You reward good work and so do I.

Tell us more about the work you do
I like working in many ways, it always depends what comes my way and what suits the purpose.
It might be drawn, collaged, mixed with photographic elements. Often I draw animals sometimes humans but more often animals with human faces. I like working unrestrained and I like to think of myself as a story teller. Just someone that has countless images and ideas floating in and out of my head and that can't help but let them out.
I like making people laugh and cry. I'm a dreamer and a drama queen and also a German perfectionist. I don't know how that all works together? Sometimes I worry that it makes my work less recognisable and less appealing to a client but I can't sacrifize the way I naturally work for just being liked. I look at so much illustration work every day and often people seem to be stuck working to a formula. That's just not me!
For now I'm super busy working on two magazine features, an exciting collaboration and my new illustration games 'HAUS STORIES' and 'IF I WAS YOU' amongst many other things. I'm also moving house and working for the RSPCA (hence the animal love). I'm a busy bee!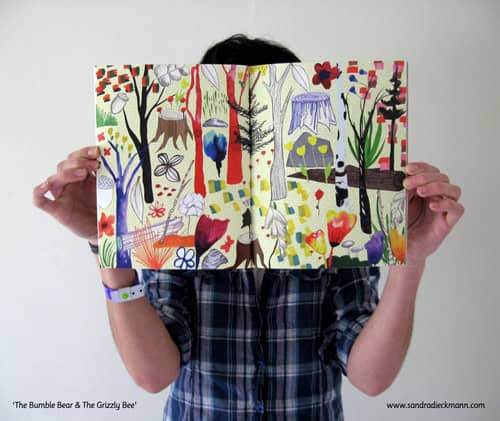 We love The Bumble Bear and Grizzly Bee, tell us more about how it came about…
Well to be honest my boyfriend and me like playing around with words and making up weird creatures in our minds. We then talk and laugh about them. Animals and monsters are a daily talking point in my life! The bumble bear just came up one night in bed  via wordplay, probably terribly tired because that's when the brain works best on such things. The grizzly bee was a reactionary character that emerged when I introduced the idea of the bumble bear to a group of shool children in London. That was during the research period of the book. Believe it or not ideas and text were floating around for about six months before anything actually started happening with the book.

Who or what is currently inspiring you creatively?
Hang on, this is one of those incredibly difficult questions that I don't think I can ever do justice!
Everything around me. The green trees, the flowers that are out now ,the streets, peoples faces, the sky and London life. Rubbish on the floor and stains on the asphalt, things that noone else has time to look at any more. I don't think those have hyperlinks! Then there is my love Nick and my cat Little Crumb and my creative friends that I'm connected to. Join me on Twitter and see for yourself! They have hyperlinks! Anything by David Attenborough. Nature books and google images searches for animals! Music by Big Star and Daniel Johnston. I think that is only the beginning! I feel sick leaving it like this…these questions are not fair!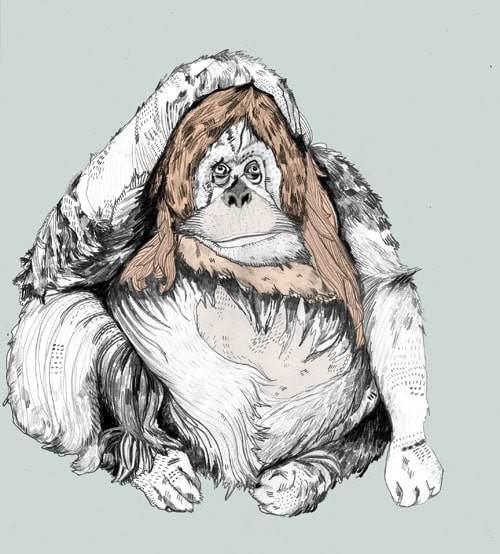 If you were invisible for a day what would you get up to?
Be naked! Then take a plane to Sweden without having to pay and probably never come back.
I would live in a little red wooden house next to a beautiful fjord that house would be mine because the invisible me had written my name on the documents for the house.
There would be dark green hills in the distance and I have a little pier with a rowing boat, a well outside the house and the sun would be shining through the trees. I'd probably have two or more dogs. A pony, a donky, some cats and Nick will be there as well playing his guitar on the porch. I might have children and enough money to invite my friends from all over the world to my house whenever they have time and want to come. I'll be making my living as an illustrator and occasionaly flying places for meetings. Yes, that would be nice!

Anything you want to plug shamelessly?
Milky Onions! Those guys are fantastic! They don't even know how wonderful they are.
It's a collective of people I know that write and play music! They are not online properly but I try and push them to be.
I've included a page for them on my blog (http://sandradieckmann.blogspot.com/p/milky-onions.html.)
It's all unpolished stuff but they deserve a brake. Great lyrics! Fun music! Witty humour! A bit weird!
You can email milkyonions@gmail.com to contact them!
Also my project IF I WAS YOU …of course!!!
Sorry that I talk too much and
THANK YOU for having me!!!
Win a copy of Sandra's fab book by saying what hybrid creature you would like to see walk the earth in the comments below.  What's more Sandra has kindly offered to create an illustration of our favourite for the winner, how cool is that? There's even talk of a book of all the creatures you dream up! We will choose our favourite at the end of July