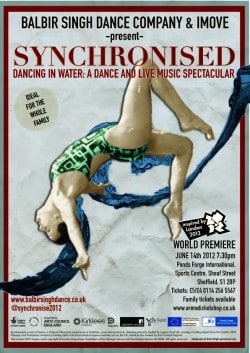 Tonight sees the world premiere of 'Synchronised', a stunning new water theatre spectacle which combines western contemporary and Kathak (classical North Indian) dance with synchronised swimming set to take place on Thursday 14 June 2012 at Ponds Forge, Sheffield.
This unusual mash-up is the culmination of 18 months of training by professional dancers, elite swimmers and members of the public, to create a large scale water-based performance accompanied by live traditional Indian music.'Synchronised' has been devised by critically acclaimed choreographer Balbir Singh and former Olympic synchronised swimmer Heba Abdel Gawad and is part of 'Imove', Legacy Trust UK's celebratory programme for Yorkshire and part of the Cultural Olympiad.
The resulting splash-happy performance, which evokes the spirit of influential Hollywood movie director and musical choreographer Busby Berkeley's extravagant dance sequences, is an exciting 45 minute piece featuring a dozen musicians, the 40 strong Leeds People's Choir and up to 40 dancers and swimmers in a full scale live event with the audience looking down on the pool allowing them to observe the full effect of the routine.
Since November 2010 Balbir Singh Dance Company (BSDC) has been working with Egyptian-born Heba Abdel Gawad, who competed at both the Athens and Sydney Games and now works as a personal trainer and pilates instructor in Leeds, on choreographing the work with a selection of trained Kathak dancers and elite synchronized swimmers. During this development phase, Balbir carried out extensive research and worked collaboratively with Heba, as well as the official British Olympic synchronised swimming team to get input and inspiration from the team as they trained in the run-up to the Games.
Balbir commented: "Working with Heba and the talented dancers and swimmers has been a great experience and we have been able to create, through 'Synchronised', a new cultural art form in Aqua-Kathak.  By successfully marrying together these completely different creative genres we have pushed forward boundaries artistically, musically and choreographically and bring it all together in one exceptional performance."
Balbir is currently adapting 'Synchronised' for a stage version to celebrate the arrival of the Olympic torch in Sheffield on 25 June and there are plans in motion to take 'Synchronised' on a national tour after the 2012 Olympic Games.
Tickets for 'Synchronised' at Ponds Forge on Thursday 14th June at 7.30pm are £5 each and are available online at www.sheffieldboxoffice.com, through the ticket hotline on to 0114 256 55 67 or in person at the Arena Box Office.