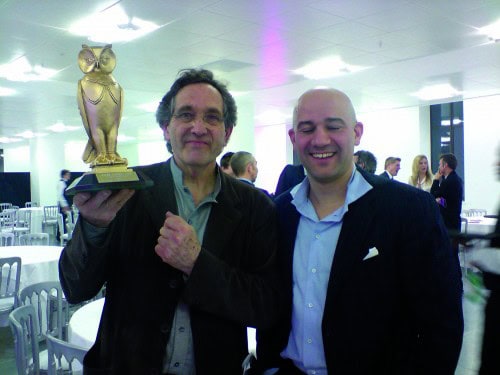 Last night I had the pleasure of joining the Holbeck Urban Village table at the Leeds Architecture Awards (24th year) at Broadgate on the Headrow. It was a fantastic evening actually, not least because I wasn't involved in running it (last week I was involved in The Northern Art Prize awards) so could relax and enjoy the wine… a little! The people around our table had their fingers crossed for Wonderwood, the temporary pocket park of fun at the Round Foundry.
After a lengthy opener by Renato Benedetti (his firm, Macdowell + Benedetti) is responsible for the s shaped bridge at Castleford as featured on Channel4's Big Town Plan) the awards were announced
Best New Building: The prize went to Broadcasting Place by Feilden Clegg Bradley Studios and was a worthy winner. Pudsey Grangefield School designed by Mentor also won
Best Altered Building: Went to The Mansion at Roundhay designed by Purcell Miller Tritton
Best Conserved Building: Went to The Mansion again this time the design by Plumtree Mee Ltd
Best Public Realm & Landscape: went to the Seating on Albion Place designed by Peter Yarwood and  The Gateway Building designed by Carey Jones with Artist Linda Schwab (the same little studs embedded in the art work at the Gateway building were made into centrepieces on our tables, and now one of them is in my coat pocket)
Best Temporary Works: Went to Green in the City at Wellington Place, designed by MEPC.
John Thorp, Civic Architect, pictured above won a golden owl for his lifetime of service to Leeds (40years). He is pictured with his version of a gold carriage clock as he retires this year (not before he has made sure the Leeds Arena has a public realm that pleases the people of Sheffield and beyond!) The Owl is a replica of those he redesigned in Millenium Square.
What do you think of the architecture in Leeds? We have been playing on twitter this morning asking what is the worst landmark and favourite hidden gems…come join us on twitter or leave your thoughts in the box below
Picture by Leanne Buchan