In this final report we say a fond farewell to Leeds Trinity Journalism Week 2014, reflect on what we've learned and get excited about next year!!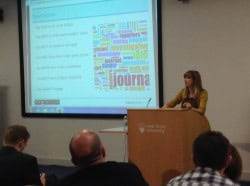 The day kicked off brilliant with Nicola Furbisher standing in for Jeremy Clifford representing the Yorkshire Post & Evening Post who had been called away. No offence to the man but I'm so glad Furbisher was the one to talk because I loved her, she was amazing – and considering she'd been asked to substitute last minute the presentation she put together was astoundingly good. The title page proudly stating "Journalism, Journalists: The Future".
She gave us a bit of background about herself and I was filled with pride that she's essentially a Bradford lass being from Brighouse. Therefore I'm a bit biased, but the fact she's now managing editor of 'Yorkshire's national paper' is brilliant. She gave us a little insight as to what newsrooms used to be like, reflecting on her work experience at the Telegraph & Argus in the 80's: type-writers, smoke-filled offices filled with men and multiple deadlines but rewarded with massive sales – the newspapers were king.
This was a time when the press kept the audience and their views at arm's length, we're told. However the world, not just the media, had to adapt, change and move on, and engage with the audience more than they ever had to avoid losing their readership entirely to other mediums.
Furbisher kept with this positive attitude with The Way Forward: the right content, at the right time in the right format because every minute a new deadline passes. This means 24/7 publishing with a digital first mentality and can start easily just from a tweet. However, print is still important and it's not a competition over which mode is better – using every platform available, keeps the public coming back for more.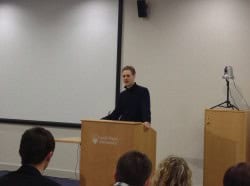 Good impressions were made straight away when Football Focus presenter Dan Walker arrived at 11, promising to spare us the self-celebration and promotion of Football Focus. However, his next statement was along the lines of 'if you didn't watch Football Focus at the weekend you're less likely to get a job in journalism because you aren't prepared' – I guess he was specifically talking to sports journalists but I still didn't appreciate being excluded just because I don't buy into footie.
Journalism is an essential yearning for the truth says Walker – a complete opposition to the comment made by Professor Alan Middleton a couple of days ago when he reduced the entire profession, yes profession of journalism as a 'delinquent sub-culture'. The main advice he offered was to have an idea of what you want to do (it helps to have a role module to aspire to), then tailor opportunities and work experience around that. Once you've got enough practice then go out and get a job – it's as easy as that apparently. The reason he is so optimistic maybe the cheeky 1st in Journalism he got whilst at Sheffield University.
The question time that ensued after were laced with football jokes – none of which I understood. Maybe I should have watched Football Focus at weekend after all. It got easier as I googled all the unfamiliar names that came up. It was made clear that in this hour that,let's face it, football reporting is in a whole league of its own and unlike any other denomination of the industry. If you want to get there then you're going to have to work your butt off but it's not impossible. Just showing that you have that edge, (Walker told us to practice by writing running order based on news headlines). He advised us to go above and beyond the set experiences opportunities that uni provides to impress employers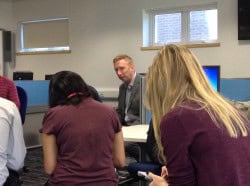 BBC Radio York Adam Tomlinson's 'interactive session' was divided into three parts: the first being an introduction to Tomlinson's background (rooted in Leeds), a task in the second and question time in the third. He began by talking about pace – radio is so quick, contrasting with TV that takes a really long time due to it having to be perfect. So maybe if you're the type that doesn't like fuss then radio journalism maybe the avenue for you.
He went on to brush upon the way in which radio has transformed 'beyond comprehension' explaining that when text-in services were being introduced at radio stations was a ground-breaking feat and was initially incredibly dubious about its success – oh how wrong he was, he admits.
Tomlinson didn't beat around the bush in giving the fundamental purpose of radio: give listeners the basics. They want to know: What's going on in the world? What's the weather like? Is it safe to go out in the world?! The brilliant thing about having a radio presenter in is how soothing their voices are and how beautifully they can tell a story. They have to be great conversationalists to be any good at what they do and that really came across.
Interactive task where Tomlinson and students after him had to describe an object handed to them in a way that a person listening to the radio could understand. It proved to be a lot harder than Tomlinson made it out to be – effortlessly describing the curves and backstories of a stapler, an egg-timer, a tiny djembe, business cards and an adapter plug. Unlike other areas of the media, it's really important in radio to state the obvious to lay foundations of thought in the listener's mind.
Unfortunately I couldn't get to see the final two speakers of the day due to being reduced to a soggy mess at lunchtime after a poorly orchestrated No More Page Three event that saw patriarchy rule victorious once again.
Having said this I know that after lunch the wondrous and talented Guardian cartoonist Steve Bell got to speak and then after him the controversial freelancer Bill Coles. To make up for my lack of attendance here are some tweets that were posted during this last afternoon of Journalism Week:






and there was a lovely debrief session in Leeds Trinity's bar-on-campus, The Lounge!
Well, there we have it – Leeds Trinity University's Journalism Week. It's been four intense days of people talking from a huge variety of careers within the profession of journalism. We've laughed, we've gasped, we've asked questions and we've been questions. The productivity and inspiration constantly bubbling away in one of our humble lecture theatres was undeniable. It has been superb! Thank-you Leeds Trinity for another fantastic week of journalism, I cannot wait to see what you come up with next year!