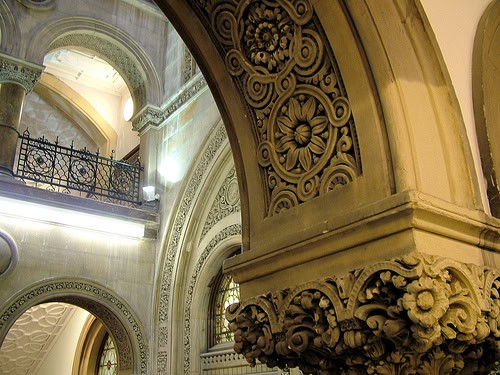 This post came about as a result of hearing that there were plans to look into the future of library provision across Leeds. The Guardian provided an excellent blog during the council executive board meeting today,which stimulated a discussion on Twitter.
I'm hoping that you'll excuse my lack of knowledge about Libraries (not sure they should have a capital L, but feel that they deserve one), as I confess this post is hopefully a starting point for conversation, rather than an ignorant desire to see my world vision come to life.
My experience of libraries recently is visiting with my two year old, I occasionally go to Armley Library, which houses a One Stop Shop and runs various community groups, forums, and consultations. I would not go were it not for my little girl, but when I'm there I actually wish I went more often. The building is beautiful, the staff seem friendly enough, and it seems to do what we need it to. I love the sense of history, and yet it's not enough to change my lazy habits…
I rarely borrow books myself, I enjoy taking G along because she likes to run up and down the lovely light filled main room, rifle manically through books and cause a rumpus. She's only two, but I think it's important to take her to the library, to give her that experience. However we don't go very frequently.
Leeds Central Library is an outstanding building, full of amazing tilework, architecture, and masonry. I'm always awed by the actual building, and yet again don't really access it's full service, despite thinking they do a great job on Twitter to inform me about their business services, E-books, family activities, book groups and much more.  Once I have done something as a result of knowing an event was happening. I have to motivate myself, and yet something holds me back…
The crux for me is I like to buy books, even though I never read them again,  and most often give them away. I used to love Borders (even though I eschew chains generally). I do this less now that Borders is gone, not enjoying the experience on Amazon, unless it's a necessity. The recession may have changed such squanderous buying, but it doesn't seem to have resulted in me going to the library any more than before.
What kind of  Library would I frequent more? I'm sure this is horribly middle class, but I really would love to hang out somewhere in a gorgeous building on a comfy sofa, with good coffee, cake and wifi. I would pitch up for the day, do a bit of work, meet some like minded folk, take my time chewing over which books to read and then take my bounty home, or not. I would expect the Librarians and staff to be friendly, knowledgeable and welcoming as well as experts in their field.  What reason would I have not to go? I would even pay for a service like this, as it doesn't exist. A home from home in the city. I wouldn't mind paying as I went, or subsidising those who could not afford it. I'd pay Starbucks money for a Sunshine Bakery type cafe.  I would be happy to do a skill swap for an hour if that helped in some way towards anything…
Now I appreciate this is a really contentious subject, I'm just expressing what would change my infrequent use of a library. Would this alienate people from coming to the library, if it felt club like, or homely? What is the future for Libraries, what should I be reading to be better informed about how these most important of civic spaces survive into the future? What are the radical alternatives? Why are they even under threat, are they not sacrosanct?
Some blogs were recommended to me today, I've just started to dip into them but they are:
New Library in Almere recommended by @rasharples
Please do shout, rant, clarify, express, share, enlighten in the comments box below and if you post a hyperlink be aware it means your post will go to moderation, it's not lost though!
Nuala's photostream can be found on Flickr