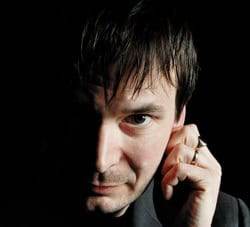 Morley Literature Festival 8-16 October 2011
There aren't that many festivals where you will find the country's leading linguist rubbing shoulders with the creator of the Daleks, London's coolest jewellery designers and actors reading Mills & Boon.
It's only a few years old but Morley Literature Festival is rapidly developing quite a following, with its blend of high profile author talks, its unashamed celebration of all kinds of reading and writing and its quirky one-off events.
This year's no exception. The week-long festival is packed with talks, music, comedy and family events, and even features a Poetry Takeaway from which you can order your very own poem, delivered to you in 10 minutes, wrapped or unwrapped.
On Thursday 13th October, the festival welcomes Ian Rankin, famous Edinburgh resident and creator of the award-winning Detective Inspector Rebus novels.  There's also the chance to quiz three writers for the Dr Who spin off novels, and discuss the genius that was Terry Nation (creator of the Daleks), with his biographer.
Radio 4 stalwart, QI regular and grumpy old man Arthur Smith presents his one-man show at Morley Town Hall on Saturday 8th October, whilst during the day, the women behind jewellery company Tatty Devine run crafting workshops.
On Saturday 15th October, the History Girls are in town.  Acclaimed historian Tracy Borman talks about her new biography on British queen, Matilda.  There's also the chance to go behind the scenes into the history of our homes over tea and cake with Lucy Worsley, Chief Curator of the Historic Royal Palaces and presenter of BBC 4 series 'If Walls Could Talk'. 
For fans of science, there's a talk on the amazing elasticity of Time with popular TV scientist Adam Hart Davis.  And Yorkshire legend, the cricketer Fred Trueman, is profiled in a new biography by the Yorkshire Post's Chris Waters.
The Guardian's music journalist Dave Simpson interviews Radio 2 DJ Mark Radcliffe on Tuesday 12th October – his latest book profiles the music that has meant the most to him over his career. Later that evening, Pauline Black, of the legendary 2-Tone band, The Selector, will be part of a panel discussing music and culture in Thatcher's Britain.
And for those with weakness for romantic fiction, there's a very special cabaret evening on Saturday 15th October, compered by Trevor Organ, celebrating the publishing sensation Mills & Boon, presented in partnership with The Culture Vulture!
For more information and tickets visit www.morleyliteraturefestival.co.uk.