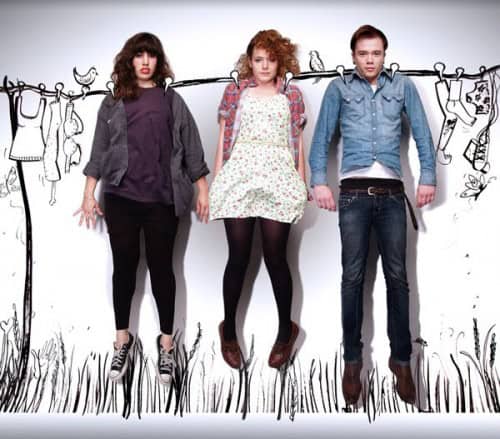 Gig Review from Richard Higgins – Peggy Sue at the Hepworth Gallery, 30th May 2012
It initially feels only a spartan crowd has descended for Wichita Records' take over of the acclaimed Hepworth Gallery in Wakefield. In the context of a normal gig setting though, that's only to be expected when said venue is the cavernous and spacious home to the Barbara Hepworth collection, alongside (for the evening) contemporary works from Heather & Ivan Morison. Undeniably an impressive building, the Hepworth's interior maze of rooms makes it easy to get lost and disorientated and doesn't immediately support the notion that it's a gig friendly venue. Sculpture yes, rock n roll…perhaps not.
Prior to the band's appearance, Cribs sleeve designer Nick Scott plays an eclectic selection of tunes showcasing Wichita's roster (former labelmate's Yeah Yeah Yeahs) alongside serial stompers such The Smiths "Panic" which echoes around the high ceilings and emphasises again that is more an event than a regular gig.
Against an impressive backdrop of the river Calder, complete with a stationary and impassive heron motionless on the weir, Peggy Sue emerge at 8 in the ground floor auditorium. The small crowd that has been gathering for the past hour or so now coalesce as one in a snug and compact tiny room. The hot topic of debate is to whether the heron is real or elaborate art installation prop befitting a gallery – heron chic indeed. Such trifling considerations soon fade as Rosa Rex and Katy Klaw (minus drummer Olly  who is 'studying for exams') take to the stage and proceed to dazzle. A spine tingling set, the vocals are crystal clear with a powerful delivery and clarity – kudos to whoever working the sound tonight.
Self effacing and engaging, the comparisons with Anna Calvi and PJ Harvey are well founded, the latter an obvious reference point as Harvey cohort John Ellis produced Peggy Sue's last album. Instruments are swapped and traded, the stripped down minimalist approach on songs such as "Watchman" and "Boxes" showing a greater array of influences, a touch of Throwing Muses/Kristin Hirsh  and a nod to Young Marble Giants.
But it's the vocals that capture – mesmerising and enchanting. At the end of a 40 minute, the crowd is moved and awestruck and even the static heron outside has taken flight. Rosa and Katy aren't finished yet and lead the throng, Pied piper style upstairs to finish the set in the main gallery space. A quite magical performance and one I hope the Hepworth sees fit to repeat again soon.