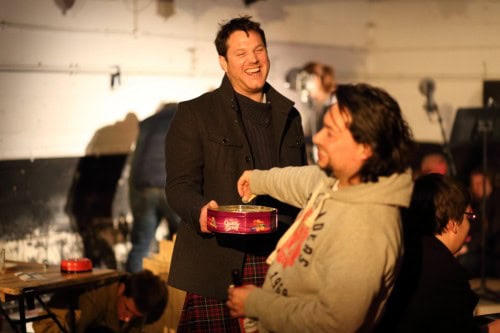 Katie Beswick (@ElfinKate) recommends you head down to Holbeck Working Men's Club, this Sunday 10th November, for some live performance and delicious food stuffs.
Alan Lane, artistic director and occasionally kilted man-at-large down at Slung Low, is very excited. This Sunday, 10th November, at 2pm, 15 Minutes Live will happen at the Holbeck Working Men's club – which, I am reliably informed by the press release, is the oldest surviving working men's club in the whole of the United Kingdom.
"It's going to be brilliant" Alan told me, when I called to get the low down on the event for Culture Vulture, "We've got some fantastic writers, and some cracking plays. 15 Minutes Live is always a real community event – and it's a bit like tapas: there'll be something for everyone."
At least, he said something along those lines. I have to confess my reporting skills are so slack that, almost the second our interview was over, I lost the notebook in which I had recorded his words. It had drowned, silently, in the sea of paper on my desk.
It's lucky I don't get paid for this stuff.
15 Minutes Live, a semi-regular event, which I've reviewed, most favourably, twice, in the past, is an afternoon of new short plays for voices, produced by Slung Low – an award winning company based in Leeds, who create performance work in unusual spaces.
It is a perfect event for families (Alan always warns his audience before 'language' happens), single grown ladies (like me), theatre lovers, music lovers and everyone in between. It is performed and recorded live, with on-stage sound effects and live music, at venues across Yorkshire, and charged on a pay-what-you-decide basis – meaning, if you're tight or skint, you can attend for free and not feel too bad about it (though, I should probably add, if you've got money, give them some. Artists need food too). Slung Low archive past recordings on their website where they exist in the transient netherworld of the internet, and where, according to Mr Lane, they are listened to all around the world.
This iteration of the event has been commissioned by The Writing Squad – a development programme for writers aged 16-21 living, working or studying in the North of England. It features brand new work from young writers Hannah Morpeth, Jessica Stratford, Sophie Ward and Ryan Watson, and a revival of Squad tutor Mark Catley's piece Never Mind the Boleros. The plays offer a snap shot of diverse dramatic styles that Slung Low describe as 'part love story, part musical, part goon show.'
There will be tea, there will be cake and delicious food from Manjit's kitchen. 15 Minutes Live is a delightful way to spend a Sunday afternoon. Make sure you attend. I really cannot recommend it highly enough.
Ooh – and if you do want to go make sure you email boxoffice@slunglow.org with the number of tickets you want to reserve and a contact telephone number. Capacity is limited.