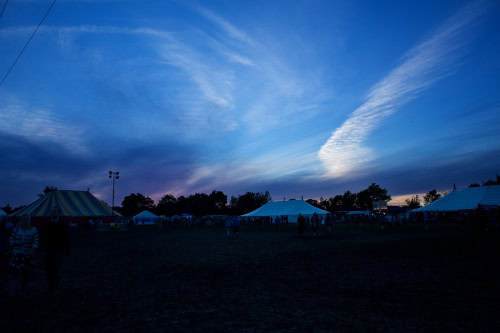 Review written by Nick Rowan and Daniel O'Dell, Photos by Sara Teresa
We arrived at the site under the atmospheric conditions of a traditional British summer. With Beacons Festival being located on what appears to be farmland on an estate on the outskirts of Skipton, the persistent bad weather caused some trepidation as to what we would find, especially in the knowledge that last year's event had to be cancelled due to flash flooding.
Fortunately our fears were unfounded. Although the rain did mean that wellies were verging on a necessity, the fact that every stage was contained within a tent prevented the kind of mudbath horror show that we've occasionally seen at Glastonbury, for example.
The stages were all clustered nicely together meaning you were able to wander between acts reasonably easily. The open, (initially) grassy expanse in between the stages was a refreshing change from the bigger festivals. Billed as a family-friendly festival, there also seemed to be more kids around than usual. (For a more family-orientated perspective, try reading this)
Friday
Having got to grips with the orientation of the site, the first act to catch our eye was Hayley Gaftarnick on the ELFM Caravan stage. The ELFM stage itself was somewhat of a throwback to Beacons' direct predecessor, the Moor Music Festival, what with its focus on local musicians. Gaftarnick's soulful voice, exceptional songwriting and multiple backing-musicians (including the only double bass we encountered all weekend) put on an excellent show.
Just a hop and a skip away was the Noisey tent that seemed to be the location for so many of the festival's standout performances. Manchester's Pins entered sporting a natty selection of knitted balaclavas, presumably as a nod to the ongoing protests over the imprisonment of Pussy Riot in Russia earlier in the month. Pins had something of a Sonic Youth feel about them – they were scruffy yet wonderful. Although there was no obvious standout track, their performance was certainly impressive.
We had to sneak out of their last track in order to get across to the main Stool Pigeon stage where London's Jessie Ware was due to appear. Ware's previous associations with SBTRKT had helped to increase expectations of her debut album Devotion, which happened to be released on the Monday immediately following the festival. Her poppy yet also dance-y set was an undoubted highlight of the weekend. Ware's setlist is already dotted with memorable tracks, particularly the singles 'Wildest Moments' and '110%'.
The festival's scheduling seemed to throw up occasional gaps where nothing much appeared to be happening. Although this may be attributable to last minute cancellations from the likes of Clock Opera, Peaking Lights, Julio Bashmore and Holograms. Where the organisers could find replacements they did so, but the changes were not always communicated particularly effectively.
After some pizza that was considerably better than expected, we wandered over to the Greendales stage where Leeds' own electronic saboteurs Runners performed to a decent crowd, considering that the heavily-tipped Factory Floor were playing at the same time. Their set is now built around the phenomenal chillout track(s) 'Tranquillity Base' (Parts One and Two), although they jumped quickly between genres throughout. Their next release should be an absolute killer.
Returning back where we started, the last featured act of the first day was Dancing Years on the ELFM stage. Until recently they had been playing under the name Joseph & David, but they made the change to "one we feel represents all the people that are now involved". With their fragile approach, they looked at risk of being swallowed up by the house and rock music seeping out from nearby stages, but their performance was strong enough for the audience to zone out any interference. The conclusion to their set, where they took their acoustic instruments and played within the crowd, was truly a memorable moment.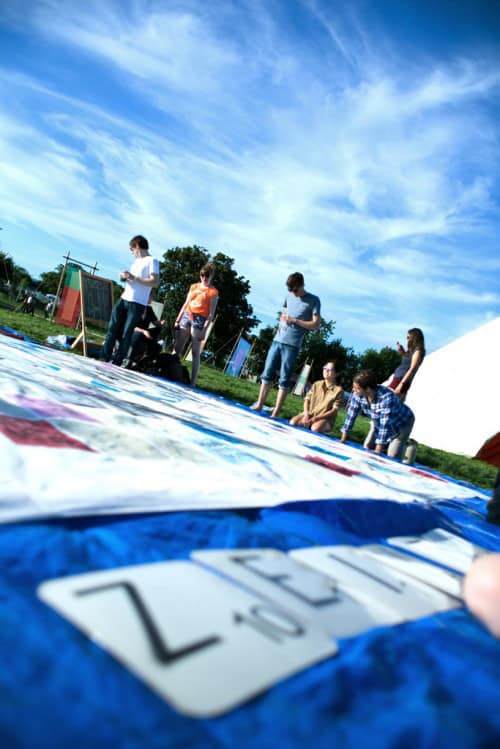 Saturday
Saturday had possibly the weakest line-up of the weekend, in musical terms at least. A lot of people appeared to be soaking up the rays and simply enjoying the surroundings.
On the Stool Pigeon stage, Canadian guitar-and-drums duo Japandroids blew the cobwebs away, as well as pretty much anything else that wasn't nailed down. Their latest album for Polyvinyl Records, Celebration Rock, has been hailed as one of the best releases of the year so far. After a while their sound did become a little samey, but the vast majority of the crowd didn't seem to be complaining.
Ghostpoet has to be one of the most instantly likeable people in British music. His Mercury-nominated debut album Peanut Butter Blues & Melancholy Jam nimbly criss-crosses between genres such as hip-hop, soul and dubstep to produce something really special. His set is reminiscent of one of the other true originals of British hip-hop, Roots Manuva.
Part of the beauty of this year's Beacons line-up was the eclecticism it fostered. House music legend Andrew Weatherall played to a packed-out Social tent on Saturday evening and the nightclub atmosphere seemed a world away from what was happening elsewhere.
We couldn't hang around for long though, as local no-goodniks Eagulls were soon to take to the Noisey stage. Possibly due to one of those weird scheduling eclipses, it felt like half of the festival was crammed in. As more and more people arrived, the PA blared out The Eagles' 'Take It Easy' and 'Lyin' Eyes'. There's nothing particularly easy listening about watching Eagulls right now though. As they careered their way through tracks like 'Moulting' from their recent Sexbeat 12", the crowd around the stage were sparked in to life. They are fast-becoming an unmissable live act and their PiL cover is a definite keeper too.
Nick Rowan (@nickrowan27)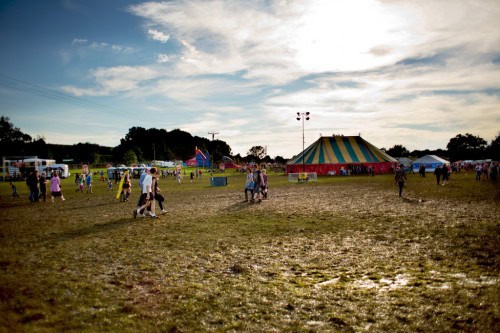 Sunday
In a tactical late substitution I was drafted in to replace Nick and cover the final day's happenings, at what was by then a very squelchy Beacons site. Besides the wonderfully stocked ale tent run by the folks from Whitelocks, these were my highlights…
After arriving into the arena and getting our bearings, the first band we were keen to see were Leicestershire three-piece The Wave Pictures. They kicked things off with 'Spaghetti' and its bouncy indie-pop rhythms instantly injected a heady stream of colour into the grubby pale Noisey tent. Collectively the band are a very talented bunch, but live they have become famed for the guitar abilities of their frontman David Tattersall, who peppered the set with his magical mazy solos extending normally short tracks like 'Little Surprise'. They are highly prolific songwriters, and were determined to fit in as many of their creations as they could, barely pausing for breath between songs, and on a couple of occasions vocal duties switched to drummer Jonny Helm. Anyone crammed in at the back of the tent might not have noticed with his voice being uncannily similar to that of Tattersall's. After a blistering thirty minutes a young saxophonist appeared centre stage to accompany a rousing finale for the upbeat 'I Love You Like A Madman', and it almost felt like summer.
Massachusetts' Willy Mason swiftly made a name for himself once his song 'Oxygen', penned when he was only sixteen, was picked up by Conor Oberst – whose label ensured that his acoustic talents reached ears worldwide. He went on to release two albums over the course of three years, toured in support of acts including Radiohead and Death Cab For Cutie, and seemed to have reached a level that the majority of singer-songwriter types can only dream of. Yet suddenly things seemed to go very quiet from him and for the next four years he completely disappeared from the limelight for reasons unknown. Now aged twenty-seven, Willy has slowly returned to playing live and on the Stool Pigeon stage he picked up where he left off, beginning his mid-afternoon set with old favourite 'Gotta Keep Movin'', a song that is perhaps now representative of his desires to return to the music industry. Up until the third song he'd been playing solo to the very large crowd, but for 'Fear No Pain' he was joined by two musicians who brought with them an autoharp, a violin and some beautiful harmonies to accompany his weathered voice, and they stayed for the remainder of the set. 'Save Myself' had the crowd heartily singing back, and from the first chord the aforementioned 'Oxygen' was greeted with huge cheers. His disappointingly brief set ended on a rousing rendition of 'We Can Be Strong', which features some beautiful violin parts, three-part harmonies and sees Willy belt out the final chorus. As he waved goodbye I was far from being the only the only one who hoped we wouldn't have to wait as long until the next time.
A heavy summer schedule has seen math-rock types Tall Ships become festival veterans, and their set in the packed Noisey tent is evidence of well how well drilled the Falmouth trio have become live. Vocalist Ric Phethean immediately sets about creating loops to lay the foundations for the band's technically complex songs. On the second song 'Plate Tectonics' he flits between a web of pedals and keys, and for the remainder of the set he is nothing but a blurry, multi-tasking mass of blonde hair as they weld a sound much more intricate and grander than that of your usual three-piece. Despite the loud fuzzing guitars and frantic bass of the climatic 'Vessels' the vocals are still crystal clear and swathes of the audience sang along with the final verse, much to the bands delight. The explosive 'Hit The Floor' heralds the end of the set, but the band will return to Yorkshire to play the Brudenell Social Club on 15th October, in support of their forthcoming album.
Daniel O'Dell (@hideleeds)