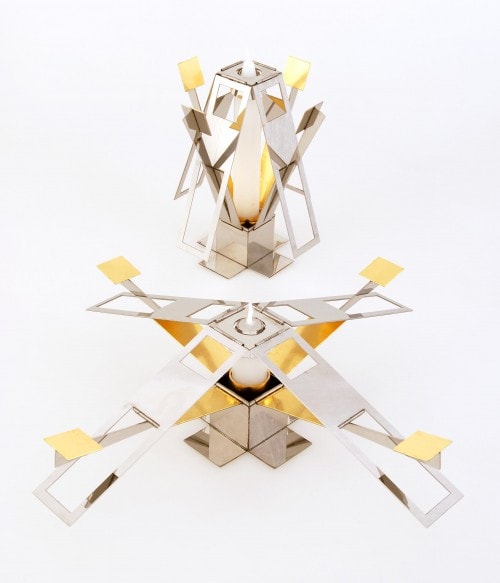 Sheffield's steel blade next to the train station and its maker, Chris Knight have already courted a little controversy here at the Culture Vulture. This time, here's a warm welcome to guest blogger Sarah Cockburn who tells us more about the silver and metalwork scene and tracks down two of the Steel City's up and coming designers:
This month, Museums Sheffield announced the winner of their coveted Metalwork Design Award 2010, a prize that celebrates the best in contemporary metalwork design in Great Britain. Despite being a nationwide award, the winner Chris Knight, happens to be a Sheffield-based metalwork designer and tutor at Sheffield Hallam University. Assuming a home team win wasn't a stitch-up, perhaps it wasn't coincidence which led to Chris' victory, but something about Sheffield's relationship with metalwork past and present. In his acceptance speech I heard Chris pay tribute to the city, "I don't work in a vacuum… I am surrounded by a vibrant creativity that keeps me on my toes and that's what is important about working in Sheffield, it is a blossoming and burgeoning scene."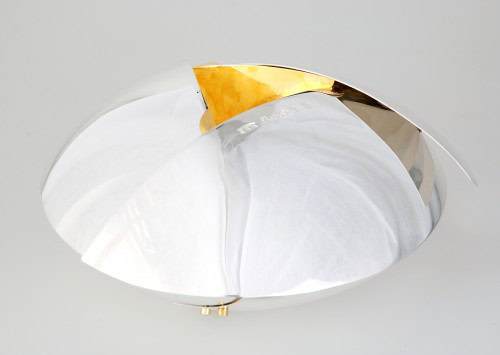 These words are borne out by the fact that among the 10 finalists, Chris was joined by two relative new-comers to the Sheffield scene – Andrew Sutherland with his mesmerising Kinetic Candle holder which slowly opens like a flower as the candle burns down to reveal a polished gold interior; as well as Charlotte Tollyfield whose elegant Tri-bowl uses Brittainia silver to create a segmented bowl of contrasting curves and angles. Both these talented young makers are currently enrolled on the Yorkshire Artspace's Starter Studio Programme for designer silversmiths, which equips artists at the beginning of their career with access to a fully equipped studio, mentoring and technical support for 2 years. So far the programme has aided 15 young silversmiths all of whom are still working in their vocation.
Charlotte Tollyfield grew up in Sheffield but it was only when she came back to the city to take up her place on the programme that she discovered its vibrant metalwork scene, 'it's great to be somewhere where you have the mix of a strong traditional historical background and a lively contemporary scene.' Andrew Sutherland agreed that activity such as the metalwork award shifts the focus from the de facto creative centre of London, putting Sheffield silversmithing on the map.
The starter studios were set up to bridge the gap between university metalwork and jewellery courses and the established industry community. The programme provides each of the young silversmiths with a mentor, and ironically Andrew's is the winner himself Chris Knight, 'It was totally friendly competition, we were both aware of what one another were doing.' As Charlotte points out, there's less need to be cagey when the brief is so open spanning art objects, practical objects, domestic and ceremonial pieces, although this makes it a complicated job for the judges. For Andrew and Charlotte it was a great opportunity to exhibit their work alongside more seasoned professionals like Knight and Donald Porritt.
Both Sutherland and Tollyfield are forging ahead with new pieces, for Andrew a bowl with an ingenious lid which opens like a camera aperture. Charlotte is working on a selection of hinged boxes which celebrate the uninterrupted form of silver on the smooth outside but reveal an etched pattern when opened. You can see these pieces for yourselves alongside the work of many other Sheffield artists by visiting Yorkshire Artspace Open Studios event on 19th and 20th of November.  The work of all the finalists of the metalwork award at Museums Sheffield Millenium Gallery where they will be displayed until the end of the month.