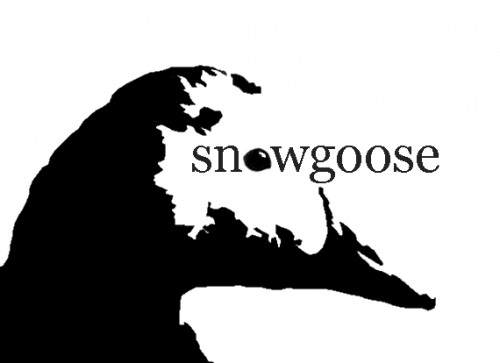 A guest post from June Russell (@junrussell) who describes herself as follows:
I'm an ex-scouser, ex-teacher, ex-arts manager and ex-commuter living in Bradford and liking it. I make hand-made prints & artists books, sing in a community choir and direct plays by new writers. None of this makes any money but it keeps me amused and takes me away from the computer screen some of the time, though probably not often enough. I used to be Director of fabric in Bradford and Manager of The Art House in Wakefield but I finally got fed up with failing to do my own stuff in 2009, and packed in the day jobs forever …
[ junejrussell.co.uk . . . . . . . . junejrussell.wordpress.com ]
Coming soon to a theatre near you: new writing from Bradford
I've always been intrigued by the motorway sign that announces 'For Bradford Theatres'. It seems to indicate that Bradford has more theatres than your average city, which is clearly not the case; not in terms of bricks and mortar anyway. There's theatre all right, plenty and thriving, but much of it is not easily accessed via the M606.
Hardest to find is Snowgoose. This long-running organisation for emerging playwrights has always focussed firmly upon action rather than words (so to speak) and, consequently, its non-existent marketing strategy means that it is far less well-known than it deserves to be. No point looking for it on the web; as far as we tweeters and bloggers go, it might just as well not exist. It does, nevertheless, and it's great.
Snowgoose New Writers' Group was created in 2006, by Bradford playwright Jonathan Hall, and began as a writing course. Jonathan is twice winner of the Edinburgh Festival Fringe First Award, has written more than 20 plays for radio and television as well as the stage, and has been writer-in-residence twice at The National Theatre. But his professional career as a performed writer seemed to have come to a standstill – much to his bewilderment.
"I got more and more disillusioned with fringe theatre because I felt that unless you were in your 20s, people were not interested. Feels like once you reach your 40s you might as well go home and put your slippers on," he says.
It struck him as a writer – now an unsuccessful writer – that theatres talked a lot about the importance of new writing and even had a number of schemes and initiatives but when it all boiled down to it there wasn't a lot actually there for writers to engage with. A one day workshop or even a twelve week course is of only limited use. What writers of theatre need is a regular 'forum' in which to test, practice and develop their craft.
From this basic perceived need Snowgoose evolved. It aims to be an organisation for writers to engage with at any level – the complete novice and the very experienced are all equally welcome; all profit, and all add value.
As a community, it tries to give writers what they need to be writers: a development process with feedback, script in hand readings to see the writing start to come to life and gauge audience reaction, full productions of short and longer pieces of work and, most importantly, an established place to meet, learn, discuss and share work over time.
Writers also need access to actors, directors, technicians and theatre space. That's a big ask, but it's here that Snowgoose has been most successful, persuading people and venues to come together and take the writing from page to stage for little more reward than the love of it. I've been directing right from the start and, for me, that's been reward enough.
For a long time, Bradford Playhouse was the obvious venue of choice for script-in-hand readings and first full productions. In 2008 and 2011 Snowgoose produced festivals of new writing there which introduced audiences to no fewer than 20 new plays.
These first productions have led to bigger things. Snowgoose successes include Funny Men by Andrew Crowther which toured regionally with Icabod Productions, then played to packed houses at Edinburgh Free Fringe in 2010, and The Rain King, by Sarah Wallis which showed at Theatre in the Mill as part of West Yorkshire Playhouse New Writers Season in May this year.
Sadly, Bradford Playhouse is now in administration and up for sale. Even more sadly, it's been a struggle to find another suitable venue in Bradford, though we're still looking. The good news for Leeds is that we've been welcomed by Seven Arts in Chapel Allerton, a lovely space that just suits.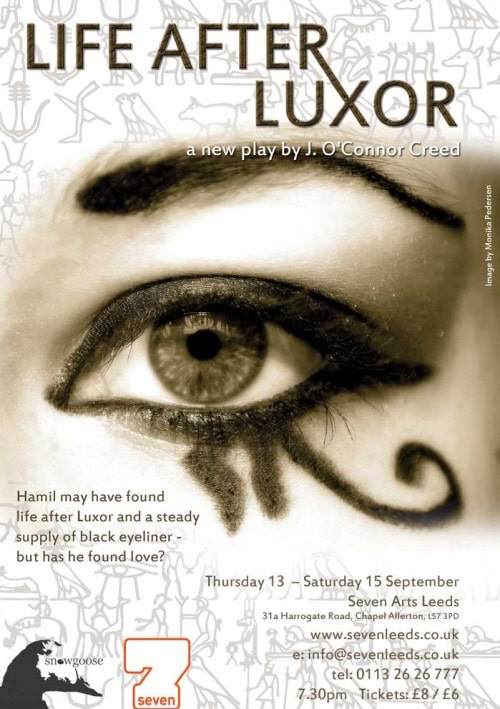 Our latest full production, Life After Luxor opens there on Thursday 13th September, for three nights. Its author, Jane O'Connor Creed, has never written for the stage before, but you'd never guess, apart from the fact that her work is far too ambitiously bonkers to have been the product of years of experience.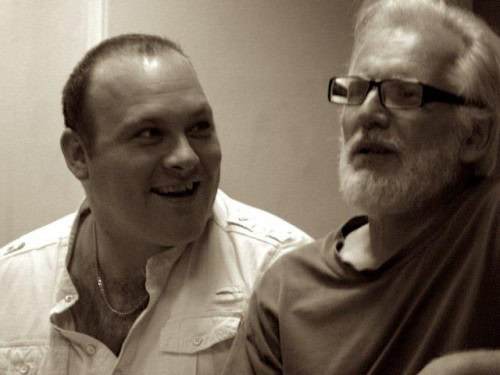 'Plays for Today', a programme of short, sharp pieces of writing, will be at Seven Arts on 2nd & 3rd November, and there are script-in-hand performances at the Gumption Centre in Bradford on 1st December. There's a weekend Writers' Workshop coming up, too, on 10th & 11th November.
If there's anyone out there who's ever thought to themselves – 'I'd like to try writing a play some time', then just contact Jonathan at hall_jonathan@hotmail.com and go for it.