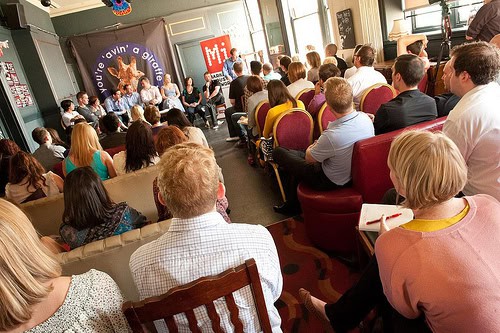 Guest post by Peer Lawther & image by Rick Harrison
The most telling moment of Sociality, a precursor to Leeds Digital Festival held at the Adelphi on Wednesday afternoon, was when the host asked if any of the assembled business people were still considering using social media for marketing purposes. No one put up their hand. Everyone's already doing it.
Sociality is the second in a series of four events for digital professionals in the city, in the run up to November's Leeds Digital Festival. Chaired by Adrian Johnson it gave local businesses and marketing agencies alike the chance to have questions answered by some of the cream of Leeds' social media experts.
The 10 panel members, who generously gave their time for free, were on hand to answer questions about how to use social media effectively. Crammed into the upstairs room in the Adelphi on Hunslet Road, over 100 people came along during their lunch breaks to discover more about all things social.
Rather than launch into ways to use Twitter, the discussion started by focusing on big picture stuff: what to do first (listen to your customers, have a strategy in place, ensure you're measuring your work), what to have in place (social media guidelines for staff,  some kind of monitoring system) and decide early on "what success looks like" (to coin a management-speak phrase).
That said, when the talk turned to the tools – Twitter, Facebook and even young upstart Google+ – the ideas were pertinent for all social media users, not just 'the suits'.
For example, a question from a marketing manager of a well-known Leeds-based ballet on how staff should use social media safely included these guidelines that everyone should  heed:
"Don't say anything stupid"; "If you're associated with your brand on Twitter then you're at work all the time"; "Social media is not a 9-5 Monday to Friday job"; and the vitally important, if common sense, "You don't always have to tweet what you're thinking" (there goes half of my material then).
Of course, one of the downsides of having so many social media bods in one room (apart from the constant glances at smartphones) was the discussion was very one-sided and everyone tended to agree with everyone else. This wasn't a problem – rather it reinforced that they were talking 'best practice' (another management-speak nugget) – but it did lead to a lot of discussions opening with "I agree with…"
Towards the end of the discussion the last two questions focused on the future; "Where will the next generation of marketing staff come from?" (answer: not from a traditional agency background, more likely via social media), and, unsurprisingly, "What's the score with Google+?" (too early to say but it's central to Google plans with search engine optimisation as it "glues everything  together").
After that, some free crisps and a quick chat with fellow delegates, we dispersed back to our various workplaces and desks, probably to go straight to Twitter and Facebook and put some of the excellent suggestions from the Sociality panel members into practice.
The next event, entitled Mobilise, is on Wednesday 21st September, and the Leeds Digital team are currently looking for "masters of mobile" for the panel. If it's anything like the Sociality panel then if you're selected you'll be among the best knowledge leaders Leeds has to offer.