"If there is going to be a revolution there must be a revolutionary party…"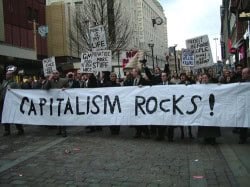 Following the post "Move along Billy Bragg…" by Jenny Harris which is here I have put together a short mix of protest songs. The obvious choice is Bob Marley's "Get Up, Stand Up" which is included here. I must concede that none of these songs are recent.
What songs would you include in your protest mix? Tell us in the comments.
You can stream the mix here
Grandmaster Flash & The Furious Five – The Message
Coldcut feat. Mark E Smith – (I'm) In Deep
Bob Marley & The Wailers – Stand Up Jamrock (Ashley Beedle Remix)
Lee Perry & The Upsetters – Justice To The People
Stevie Wonder – Big Brother
Marvin Gaye – Mercy Mercy Me (The Ecology)
Bob Dylan – All Along The Watchtower
Coldcut – Re:Volution
Public Enemy – Party For Your Right To Fight
You can download the mp3 here.