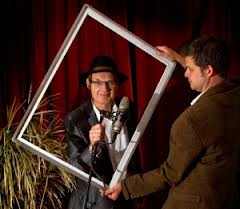 The anatomy of ambition : Ivor Tymchak reflects on the Bettakultcha journey, and introduces a video …
One snowy Christmas, I attended a creative networks party at Leeds College of Art where I met Richard Michie through Phil Kirby who I had earlier met at a Mike Chitty Progress School meeting. Phil Kirby is a writer and Mike Chitty is a social activist. Meeting them has proved more interesting than a chance encounter on a dissecting table between a sewing machine and an umbrella*.
Phil encouraged me to join the Leeds Savage Club which I did and which showed me what could happen if like minded people got together and worked on a project. I was fascinated by the stories of Robert St. John-Smith about the making of his feature length film using his own money and contacts.
Richard Michie and I went on to create the Bettakultcha phenomenon which is where the serious business of meeting seriously interesting people who do interesting things began. Through it I met Albert Ross, the musician and Will Simpson the film maker.
Albert along with Will put together an internet TV show which demonstrated the willingness of creative people to join a project that was was simply fun to do. I was fortunate enough to be a part of this history. These were a couple of guys who had an idea and went ahead and did it. The internet gave them the permission and the means by which to commit their audacious ideas.
Through my involvement with BK I met Noel Curry who had aspirations of doing comedy. We plotted together, along with Alison Pilling and Kate Booth to create the next Python team. Noel, it turned out is also a TV editor. You tend to remember this kind of detail …
Meanwhile, my daughters two dwarf hamsters were causing her some concern as one of them wasn't behaving as it should. The phrase "as it should" gave me the idea to do an allegorical BK presentation about dwarf hamsters. Getting the real hamsters to pose for photographs though was proving to be difficult so I resolved to illustrate the scenes using my artistic skills – I'm an artist as well as an enigmatic compere, by the way. This meant producing 20 full colour illustrations for the 20 slides needed. As I keep exhorting people to push the envelope of the BK format I thought it only fitting that I demonstrate the possibilities by going that extra mile, walking the talk and … oh, I appear to have run out of cliches in describing this journey of a thousand miles that began with one step…
Once they were done I wondered if they could be used for a subversive children's book maybe. All that work and effort encouraged me to think about other possibilities.
Then Noel Curry let slip that he was 'inbetween jobs' and very kindly offered to edit the BK Town Hall videos, which he did with such expertness that I got the idea to ask him if he could animate my digital illustrations using whatever professional software he used. It turned out he could achieve a simple animation if I prepared the files in a particular way.
But I needed to record the narration for the video first so I thought about recording it on my laptop using the in-built microphone. After a tweet of mine asking if the quality would be acceptable from such a setup, Richard Horsman (who I also met through BK) saw it and invited me to use his studio at Leeds Trinity University to achieve a sufficiently professional quality.
I hope you're starting to see how the world works … the blood of your ambition is pumped by the beating heart of your contacts.
A musical friend of mine, impressed by the sheer volume of work that had gone into the project so far, offered to put some music to the video and suddenly I'd made a film with almost 100% original content (some sound effects and music was used from GarageBand's loops library) I say "I" made a film but of course, it wasn't just me, it was all the people I have mentioned in this article who had inspired, collaborated, contributed and refined the concept into the finished artwork.
This is the future. This is how the next generation will defy the prevailing business model and create their own set of rules based on their experiences and contacts.
The total monetary budget for this film was £50. The rest of the budget was made up of favours, bloody mindedness and a love of being part of something that defies the existing regime.
A fitting conclusion then to the heresy that is "How to care for your dwarf hamsters". Enjoy, then destroy.
*my thanks to Comte de Lautréamont