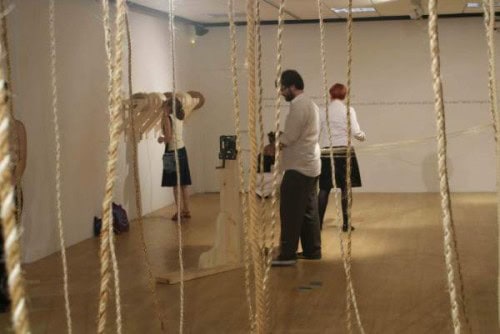 I've got a thing about art which is genuinely interactive. I don't mean work that invites the audience to take part in a peripheral activity. I'm thinking specifically about work where audience participation is integral to the installation; where the work couldn't exist without audience involvement. This is why the Change Spaces exhibition at Bradford's Gallery II appealed to me so much. In collaboration with Bradford University's renowned Peace Studies Department as well as the Bradford Media School, live artist Sorrel Muggridge has devised a captivating concept which responds to the theme of conflict and peace. The result is an installation with traditional rope making at its core, where the dynamic processes involved in making rope act as a metaphor for the experience of peace building and conflict transformation.
Sorrel Muggridge doesn't just infuse her installations with interactivity; she also imbues them with a map-like aesthetic. I watched as visitors became immersed in the different stages of rope making during the opening night of Change Spaces, using the hand operated contraption set up especially in the gallery to form a mini rope walk. The process is surprisingly simple and entirely physical. It's also visceral and remarkably therapeutic.
I watched as the natural fibres of the different varieties of twine were instinctively stroked and smelled, as people decided which thickness and colour to use in their rope. Having selected three or four varieties, the rope maker then paced back and forth along the rope walk several times, hooking the lengths of twine at either end.
With one person cranking the hand shaft, another dragged the wooden paddle along the rope length, designed to keep the three strands of twine separate while the rope twists into shape. The pair worked together, reacting to the rising tension, always ensuring the paddle moved in time with the hand shaft. The rhythmic process of the loose strands coming together, then tightening up to form a segment of taut rope, and finally permitted to run free in the opposite direction to release excess tension, was mesmerising to watch.
Anticipating their turn, others in the gallery silently pondered their responses to questions like 'how does conflict feel?', 'what choices do we have to make?' and 'what change is needed?' These private thoughts were then committed to a long reedy strip of paper, no more than half a centimeter in width, designed to be bound into the end of the length of rope they were yet to make, so that little more than a fragment of experience, vaguely decipherable, would remain tantalisingly visible to the world.
I wanted to return to the gallery at a quiet time, so I could make my rope in solitude and at my own pace. I returned last week with a rope making team – my seventy-five year old mother and six year old daughter. Rather than make a rope each, we wanted to share our labour to make one collective length. We began the process by confidentially conveying our individual conflicts to the shreds of paper. Mum's concentration, as she sat to confide in that ribbon-like strip, took me by surprise. I suppose I hadn't expected her to take the task so seriously. My daughter and I decided to share a ribbon-like strip, her musings written in red ink and mine in black, scrawled on both sides until everything was said.
We did everything very much in terms of our familial pecking order. So mum selected her twine, tied it to the first hook and wound it six times around the rope walk. I chose the opposite hook for my twine, realising later that taking contradictory sides sums up our relationship quite well. We chose to bind our stories within the rope, with nothing hanging out. The final stage was to decide where in the gallery was best to hang the rope, responding to an emotional cartography marked out on the floor.
There was a poignant moment when we realised the tension and twists of the twine had forced our two conflict ridden strips of paper to overlap within the folds of the rope. As we stood back to admire the robust rope we'd created, linking our three generations, mum remarked to my daughter that our conflicts and their resolutions were now interwoven, just as our lives really are.
You can make rope at Change Spaces at Gallery II in Bradford until 19th July 2012.
Above photograph by Sorrel Muggridge.
Irna Qureshi blogs about being British, Pakistani, Muslim and female in Bradford, against a backdrop of classic Indian films.
If you enjoyed this post, you may also like The Golden Age of Bradford Mela.