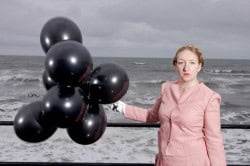 Etiquette of Grief
Hull Truck Theatre, Hull
Wednesday 05 June 2013, 8:00pm
Tickets: £12/£10
Etiquette of Grief, a playful and provocative solo show by artist/performer Ellie Harrison, will come to Hull for the first time on 5 June at Hull Truck Theatre as part of a new eight date tour of small-scale theatres.  The show will take audiences on an intimate journey, offering a guide to tackling both private and public grief, in all its gory and glorious manifestations.
This thought-provoking performance questions the nature of public grief and asks 'Does the British 'stiff upper lip' result in a collective identity that inhibits how we grieve?'. Often witnessed when a famous figure dies, do mass outpourings of feeling bear any relation to the complicated, messy emotions of personal life?
Both heart-wrenching and heart-warming, 'Etiquette of Grief', which toured internationally in 2012, has received new Arts Council funding to bring the show back for a 2013 tour. Leeds-based Ellie, who graduated in 2012 from Leeds Metropolitan University with an MA in Performance Works, has created a number of solo and collaborative performance pieces for studios, galleries, found and public spaces (including 'Heave' in 2009). With 'Etiquette of Grief', she explores the sometimes uncomfortable but also funny and peculiar rituals of mourning, and the wide-ranging emotions that follow an overwhelming loss and the ways in which grief touches us all.
The 'Etiquette of Grief' is the first in 'The Grief Series' which sees Ellie using a seven-stage 'Grief Model' from popular psychology, and working in collaboration with other artists to produce a number of projects which include performance, photography, installation and sculpture to examine each 'stage' of grief, from shock and anger through to sadness and finally, acceptance.
Comments Ellie: "I was inspired to make 'Etiquette of Grief' after experiencing my own bereavement and realising that grief is still a taboo subject; it's OK to talk about it one-on-one with a close friend or loved one, but there's no social space where it's appropriate to talk about how you feel when someone you knew or loved, dies. We don't know how to react to someone grieving and our attitudes are very much either 'buck up and get on with it' or 'talk to a professional' – both of which silence the griever.
"With this project, I wanted to create a warm environment where people can talk about grief. As well as exploring the public side of grief, I look at the personal and practical elements – the rituals that follow the loss of a loved one from organising the funeral to the practicalities of learning to take over the role of the person of that died, whether that's leaning to cook or to pay the bills; there's a lot of mundane and sometimes, almost comical tasks, which have to be addressed and this adds a lot of humour which sits alongside what is undeniably, quite a dark subject matter."
Adds Ellie: "The Grief Model gives each piece a distinctly different focus whilst also contributing to a cohesive body of work and 'Etiquette of Grief' is an introduction to the series so I'm delighted that we're able to tour it again. I've had such a fantastic reaction to the series so far that I've become a bit of a magnet for grief; sometimes total strangers who are familiar with my work will come up to tell me about their experiences. It's as if I've given people permission to talk about death and it's not all sadness and tears, there's often joy and humour in remembering a person you've lost.
"I find the subject and the psychology behind it hugely interesting and I hope that by encompassing different artistic mediums with each project, I can engage a variety of audiences in a theme which, in some way, touches all of us."
Tickets for 'Etiquette of Grief' are now on sale. To buy tickets and for more information on the 'Etiquette of Grief' tour and the wider 'Grief Series' visit www.griefseries.co.uk