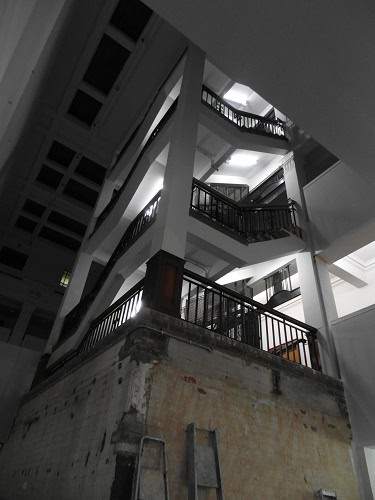 For an inevitable while, a few years after graduating in 2007 or thereabouts, I seriously intended a move to London where the streets were paved with Arts Council funding and opportunity. Circumstance and time ran away with me, as is its wont, and in 2013 I find myself writing this from my flat in Leeds city centre.
Here, I am ten minutes walk from "one of the UK's most significant collections of twentieth-century British Art". Ten and a half minutes' walk from a "world-recognised centre for the study of sculpture". Twenty minutes on a train will get me to "one of the UK's largest purpose-built gallery spaces outside London". And twenty-five minutes down the M1 I'll find "an extraordinary international centre for modern and contemporary art and the UK's leading outdoor art gallery". Well, that's what the official guide books (and probably the annual funding applications) tell me about Leeds City Art Gallery, the Henry Moore Institute, the Hepworth and Yorkshire Sculpture Park, anyway.
It's not for these empty statements of significance that I'm happy with my lot, though. Yep, it's great to have world-class facilities like these on my doorstep. I've seen some incredible – dare I say, life-changing – art at all four venues. But I can go to any city in the world for that. These are my locals, and like any good local they're as important to me for the memories made and company shared in them over the years as for the quality of fare on offer.
I've seen excellent and significant twentieth-century British Art in Leeds Gallery. I've also spent countless hours having the most significant and the most insignificant of conversations in the Tiled Hall Café. The Henry Moore Institute is a place where I have studied sculpture in world-recognised surroundings – but at the time, it felt more like I was taking a quiet moment to escape the hustle and bustle for some me time. I've walked through the purpose-built door of the Hepworth and laughed way beyond the point of hysteria with friends – the fact we were in a gallery space larger than most outside of London wasn't at the forefront of my mind.
You get the idea.
All of which brings me, in a long-winded way, to new kid on the block, The Tetley. This new iteration of Project Space Leeds (formerly housed at Whitehall Waterfront) is, in its own words, "a new centre for contemporary art and learning in a landmark heritage building". The "landmark heritage building" in question, for those who've been living under a rock for the past couple of years, is the former HQ of the Tetley Brewery. Once the nerve centre for Leeds' drinking establishments, owning half of the city's pubs, the brewery was closed unceremoniously in 2011 by parent company Carlsberg. There was, of course, an outpouring of nostalgia: from fond reminiscence of the dray horses delivering barrels around the city as recently as 2006 through to the recent and distant memories of brewery staff, everybody had a memory of Tetley's.
Lucky, then, that the new occupants of the art deco HQ building count themselves amongst those who care deeply about the building's significance to Leeds. Last Monday a small group of bloggers and tweeters were invited to be the first to step across the threshold of the reinvigorated Tetley, where we were given a behind-the-scenes tour by Project Space Leeds founders and directors Pippa Hale and Kerry Harker.
The most striking thing stepping through the original revolving wooden doors is how un-tampered with it feels. A significant amount of work has been done to the building's interior, but most of this has concentrated on restoring original features of the building – notably opening through three floors and the central staircase to reveal the original light-filled atrium. Exhibition spaces still feature the wooden panelling and fireplaces once enjoyed as office accoutrements by Tetley executives, and new features added in have employed materials found around the space as far as possible. For example, the restaurant and bar furniture comprises vintage pieces from the original brewery tap pub, and new additions such as the table tops made from wooden panelling taken down when white-walling new exhibition spaces.
Talking to Pippa and Kerry, it's evident that they are planning as much for the building's future as they are with its past. Plans for how the centre will benefit from regeneration projects such as the Stray are crucial to their vision for how it will become a new local for Leeds. They're adamant that they will remain unapologetic in their curatorial choices of contemporary art from early- and mid-career artists – encouraging, when it would be so easy to compromise in a high-profile venue such as this – but will make best use of the space and facilities to create a welcoming space for locals to make their own. Again, in their own words: "we'll offer a warm welcome whether you're here to see cutting edge art, sample our Yorkshire menu or enjoy a pint of Tetley's in this historic setting".
I for one have high hopes of welcoming this new space into my repertoire of locals. Here's to Leeds, here's to the Tetley, and here's to memories yet to be made.
The Tetley opens on 29th November, with activities and events planned all launch weekend. More info: http://thetetley.org/launch-weekend/