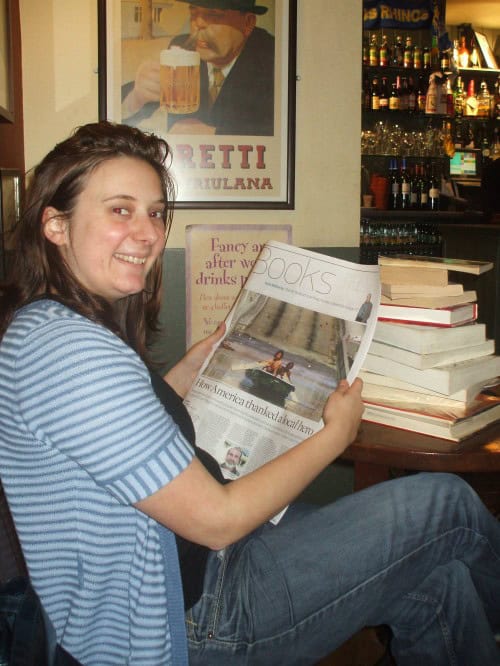 It may sound like Hollywood's newest blockbuster, a sequel to 'Alice in wonderland' or perhaps 'The Notebook', but it's not… It's a brand new, totally original library service based in Leeds.
Jessica Haigh, a 25 year old assistant librarian from Burley in Leeds pioneered the service in February after deciding she wanted to share her love and knowledge of literature amongst the local community in Leeds. The idea of the service is to provide as wide a range of books to lend as Jess can fit into her suitcase and she is more than happy to keep a look out for any special requests. Jess has always loved books and simply enjoys seeing other people share in her enjoyment. The service is completely free as Jess believes to receive payment for something she loves to do would be unjust.
The library aims to be as environmentally friendly as possible; all books are donated, recycled from libraries or purchased from charity shops. There are no fines to pay, the service is completely based on trust and the books can be kept for as long as it takes to read them. The idea being that if people enjoy reading something, they wouldn't want to stop others from doing the same. Since starting up the service Jess has decided to incorporate a Book swap element to the library due to feedback, so if you have books you want to swap, borrow or generally have a natter about anything bookish drop by.
The travelling suitcase library can be found (along with Jess in tow of course!) at Arcadia Ale and Wine bar in Headingley on the 2nd Sunday of every month from about 3pm. Next session will be Sunday 13th of June. Pop along to see what the fuss is about, Jess is an avid reader and is more than happy to talk with you about recommendations and generally chat about all things bookish!
If you would like Jess to come to your business, have books you would like to donate or would like to be added to Jess' mailing list please email bookelfleeds@googlemail.com, or you can find her tweeting away @BookElfLeeds.