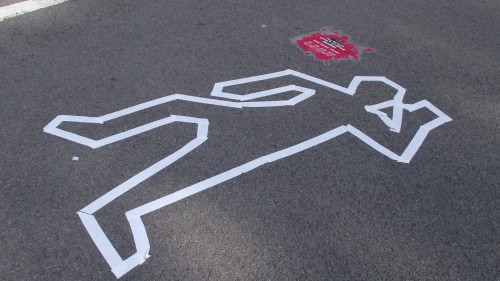 For the ninth year running, the Theakstons' Old Peculier Crime Writing Festival took place in Harrogate this weekend and our 'blogger in residence' Keith B Walters was there to investigate all of the criminal activities that took place in the Old Swan Hotel.
We managed to get a sneak peek at his dossier whilst he was away at the bar (something we understand happens fairly frequently at these crime fiction get-togethers).
We think the evidence is pretty substantially stacked against the organisers – they clearly masterminded a killer event.
Here's what his report stated…
Everyone says there are two certainties in life: Death and taxes.
I've just returned from my fourth Harrogate Crime Writing Festival and, if you're a crime fiction fan and you go there, I think you can add a third life certainty to your list – you will be guaranteed to have a killer time.
I actually think the team behind the event, headed up by Festival Manager Erica Morris and Chief Executive Sharon Canavar, got everything right in the first year (this is their ninth) but they have managed to keep it fresh and it just gets better and better every twelve months, growing in popularity through the calibre of writers it brings and the quantity of visitors.  It was reported that this year's ticket sales were in excess of 9000 ! – So they clearly have a winning formula for growth, coupled with a legion of dedicated fans who return year after year to see the authors they so admire and to get more of an insight into what it is that makes crime fiction so interesting and popular.
The event kicks off on a Thursday with a full day of crime writing tuition under the watchful eyes of successfully published crime writers.  I didn't attend the classes this year (but thoroughly enjoyed them last year).  Those I spoke to said that the classes this year were even better than in 2010 and that tutors Allan Guthrie, Stuart Macbride and Festival Chair Dreda Say Mitchell were first class teachers covering all the bases right through to the afternoon's Dragons' Pen event, where hopeful writers get the opportunity to pitch their crime novel idea to a panel of top agents and publishers in the hope that one of them might want to read it.
My start to this year's festival kicked off at 6pm on the Thursday evening with an awards ceremony for Alibi TV and Harper Collins' Search for a New Crime Writer –scooped by Welsh writer Geraint Jones for his short story 'A Well Kept Secret'.
Following this was the main launch event for the festival itself with the award for the Theakstons' Old Peculier Crime Novel of the Year.  Radio Four's Mark Lawson gave a run down of the shortlisted big names, with a brief interview with each on stage and presentation of a Theakstons' tankard as reward for being on the shortlist.
Then the winner was announced as Lee Child for his Jack Reacher novel '61 Hours' – a very popular choice – but, after all, the man does sell a book somewhere in the world every second!
We were then treated to the presentation of a special award for contribution to Crime Fiction to PD James who, at nearly 91, staggered the audience with her great speech and humour, to a standing ovation.
The first full day (Friday) saw panels by single authors, the wonderful Martina Cole at 9am and the slightly addled Howard Marks at 10pm and a great selection of group panels throughout the day which included appearances from authors who started writing whilst in jail, journalists who had turned to fiction and psychological thriller writers.  One of the best of the day, and a first this year was the 'Old Blood' panel where authors who had appeared on 'New Blood' panels at previous festivals with their first novels came back to the stage to talk about their experiences and work since that time.
The events come thick and fast at Harrogate, leaving an average of 30 minutes between each for a quick coffee and chat before it's back in for the next panel, but you can pick how you wish to attend, buying anything from a single event ticket to a day pass or a complete festival 'rover' pass for the whole weekend.
In the evening I was fortunate to be invited to the Crime Writers' Association (CWA) and ITV3 Crime Thriller Awards reception, which was a great room of top authors and hosted by bestselling author and CWA Chair Peter James – the only downside being that there seemed not to be a single recipient of an award anywhere to be able to collect their prizes.
Saturday morning I was up and breakfasting early, as Corvus publishers had very kindly arranged for me to meet one of their authors, CJ Box, for an interview at the hotel in which I was staying.  This was a nice extra but one I had to cram in early before rushing over to the venue hotel to see top US author Tess Gerritsen speak about her work at 9am.
Another full day of panels followed again, this time including those dealing with the supernatural and horror in crime fiction, this year's 'New Blood' panel, which included SJ Watson  – who I interviewed for Culture Vultures prior to the festival, plus panels on legal thrillers and vice.
Late afternoon saw a great double-header between David Baldacci and Joseph Finder – who clearly had a good rapport and had some great anecdotes about the way they write and their research stories.
I had to sneak away early from their event to make my way to the lovely Betty's Tea Rooms in Harrogate town for a reception party held by Transworld Publishers for their authors – this included Tess Gerritsen and winner of the big award on Thursday, Lee Child, amongst many other top names.
Then it was back to the hotel to a hilarious event which saw Lee Child being grilled by Independent Columnist Christina Patterson about his pet hates in crime fiction – those he wanted to condemn to his very own 'Room 101'.
This began to seem like watching, as Child himself stated, a marriage, with the pair bickering and trying to score points off each other by name dropping along the way.  Lee Child was a worth opponent, but after he dropped a Barack Obama anecdote and Christina followed with 'Well, I know God!' the audience nearly burst its collective seams.  This was definitely not to be missed stuff and, moreso, as Child makes so few appearances in the UK.
It was then time for everyone to step outside for a short while whilst the festival team worked like trojans to transform the fully seated main hall into a cabaret style room with round tables and candlelight ready for the 'Late Night Quiz'.
The Quiz is the one event that everyone seems to get hug up about at the festival and, whilst there are clearly a couple of incredibly competitive teams of publishers and agents in the room who are battling to retain or snatch the trophy, it is just great fun.
Where else would you see top bestselling authors like Mark Billingham and Val McDermid dancing behind their quizmasters' desk to the sounds of Johnny Cash or Hugh Grant ? (I kid you not).
Sunday morning is always a little more subdued and this year was no exception.  The day starts a little later (at 10am) which is very kind for all concerned.  I know the party in the bar and at the front of the Hotel grounds was still very much in full swing when I left at 2.15am, so a 10 o'clock start is a good thing for the last day.
It did feel really sad loading the car with my things and checking out before walking over to the hotel, the four days had flown by.  But, my spirits were lifted at the fact that the first person I saw grabbing a coffee in reception was one of my favourite authors, Boston-based Dennis Lehane, so I managed to get my movie poster of 'Shutter Island' (based on his great novel) signed by him before most people were even awake.
First panel was 'No Place like Home' – ironic as that's where we'd all be headed after the second event.  It featured CJ Box who I'd interviewed the previous day, along with other authors whose work was strongly based in a particular location or country and which couldn't really work if their detective or central character relocated.
And then, at 11.30am, it was time for the last event, Dennis Lehane interviewed by Mark Billingham.  A great, insightful, interview which covered everything from him first getting published, his novels since then and the great fortune he has had with the film directors (Clint Eastwood, Ben Affleck and Martin Scorcese) who have brought his books and characters to life on the big screen.
Once the talk had finished, Festival Chair Dreda Say Mitchell took to the stage and thanked everybody for making this year's event such a great success.  Then I joined the huge queue in the signing room (the festival has its own Waterstones shop for the duration of the weekend) with everyone else to get their Dennis Lehane novels signed and, in a way, I guess like me, there were a lot of people who just wished it wasn't actually all over.
I hope the above has given a good flavour of what a diverse and enjoyable festival it is but I need to mention the most important part of the weekend.  It is, without doubt, the friendliest group of people you will ever have the good fortune to meet.  Once you arrive, it starts off feeling quite surreal, but you very soon get used to the fact that the superstars of crime fiction, the names on the book jackets on your shelves at home and in the bookstores, are right beside you, they are at lunches with you, happy to chat away in the shop, outside on the hotel lawns, oh and sometimes you may also find them in the bar too.  There is no hierarchy at Harrogate, I've never felt any 'us' and 'them' attitude and these are not people who hide away in a green room waiting to be wheeled on and off stage not wanting to meet the people who buy their books.  The same goes for the publishers, agents and all the other guests who are there, year after year – everyone is there for a good time.
So, as I said at the beginning, I really do feel that this could well be the third of life's certainties – get along to the Tenth Theakstons' Old Peculier Crime Writing Festival, Harrogate, in 2012 and you will be guaranteed to discover some more great writers to read, make some great friends, buy some excellent crime fiction and you will have a bloody good time in doing so.
I was already passionate about the festival before Culture Vultures kindly asked me to go there this year, but this year I've been back two days now and am still buzzing with just how great it all was.
For 2012, Mark Billingham returns as Festival Chair, with the event taking place 19-22nd July, and the line-up is already shaping up nicely with Harlan Coben, John Connolly and Charlaine Harris set to attend.
To book your Weekend Break Package for 2012:
Tel: 01423-562303
Email: crime@harrogate-festival.org.uk
www.harrogate-festival.org.uk/crime
See you there