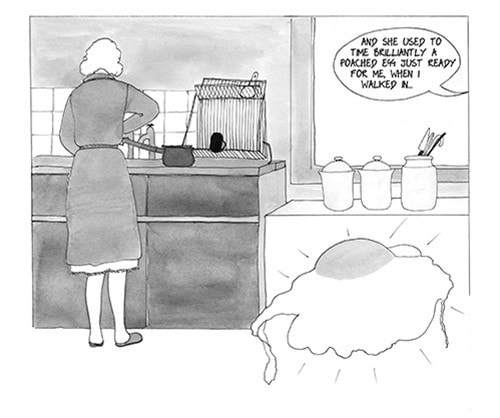 Louisa Parker introduces Comics Forum & Thought Bubble 17th till 22nd November, Leeds
The annual Thought Bubble Festival and its clever-clogs sister the Comics Forum are nearly upon us again and for those of you still attached to the idea that comics are just for kids, have you opened your eyes and looked at the literature prizes recently? Graphic novels for adults have won the Guardian First Book Prize, The Costa Book Award and of course the Pulitzer Prize. The art form is growing in popularity in the UK; last year more than 10,000 visitors came to the Thought Bubble festival for comics related events, workshops, talks, film screenings and other happenings and yes, some of them are dressed up as their favourite characters but I happen to find it quite entertaining to see people wandering around the Clarence Dock dressed as Batman.
I will be presenting at the Comics Forum this year so I'm excited but also a little nervous as I will feel like a comics beginner among comics boffins. (I must draw a comics boffin at once! I wonder what one looks like?)
The Comics Forum is a group of academics from across the UK who aim to 'increase the visibility and accessibility of comics scholarship' by taking part in the Thought Bubble festival. Comics study is a growing field and one I'm proud to be part of; comics and cartooning has a rich and subversive history that goes back via Hogarth to the middle ages and beyond so it's of interest to a range of theorists and practitioners across disciplines. The two day conference takes place at Leeds Central Library on Thursday and Friday, 21st and 22nd November. The main Thought Bubble Festival is on Saturday and Sunday, 23rd and 24th at The Royal Armouries and New Dock Hall but there are other comics related events around Leeds from the 17th November, see the website for details.
If you've never been to an academic conference before I can promise you it's not nearly as boring as it sounds, in fact it's a fairly safe bet there will be no dusty old professors mumbling away to themselves as the audience snoozes, not at this event anyway. The theme of the conference is Small Press and Undergrounds. There are panels discussing fanzines, history, gender, sexuality, blogging, art, authorship, communication and politics. I'm speaking for half an hour after lunch on the first day of the conference as part of the panel on gender.
My paper for the conference is titled Small Story: Big Picture. I will be talking about the process of making graphic narratives from the detail of real lives for my practice based PhD at the University of Loughborough. I draw women's stories, socially and politically situated, in comics form focusing on the minutiae. I will discuss some examples of (auto)biographical work in comics, including my own short stories about mothers and daughters, my work in progress about a peace activist who was a midwife* and my novel length graphic narrative about VAWG, due to be published in 2016. I will talk about how I arrived at this point through the self publication of zine style booklets and about how I learned 'on the job' the practicalities of beginning to draw in comics style. You can find out more about my work here.
Dr Ian Hague, Director of Comics Forum says 'one of the things we've always sought to do with Comics Forum is establish a space for conversations between different approaches to comics. In part that means enabling discussions among academics, but it also means talking to creators and readers (and others, such as publishers) and seeking the very varied insights all of these groups have to offer.'
Hague appreciates the wide range of opinions at the Comics Forum and hopes that people come away from the conference with new ideas for their practice, whatever that may be. His PhD, completed in 2012, relates to comics studies and his book, Comics and the Senses: A Multisensory Approach to Graphic Novels will be published by Routledge in 2014.
There are varied and interesting speakers on both days but I can't give names away yet as not everyone has confirmed attendance. I can guarantee there are names worth waiting for.
It's best value to buy a ticket giving you access to all four days of Comics Forum and Thought Bubble at £35 but if you are a bit poverty stricken, like so many of us these days, you can just pay £10 for one conference day of your choice. When the program is finalized it will be posted on the Comics Forum website. Conference price includes refreshments but not lunch. So, if you want to register for just one day it's £10, for two days £20 or for both events over four days, Comics Forum and Thought Bubble it's £35. This can be paid in cash on the day, receipts provided.
If you love comics but haven't visited Laydeezdocomics yet, you should give it a try. Attending Laydeezdocomics (and helping at the London and Leeds forums) has helped me progress as a comics artist and as a comics scholar. The next Leeds meeting is at Wharf Chambers on the Monday evening after Thought Bubble, the 25th November. Speakers are Ian Williams (Graphic Medicine) Gemma Correll and the illustrator Paula Knight. The forum, open to all, is a 'unique graphic novel forum with a focus on comics works based on life narrative, the drama of the domestic and the everyday.' Founded by Sarah Lightman and Nicola Streeten, Laydeezdocomics is on twitter and facebook and there are meetings in London, Leeds, Bristol, Brighton, Dublin, Glasgow, Chicago and San Francisco.
Leeds will be comics central in November, make sure you don't miss it.
*an excerpt from this story, A Matter of Life and Death: On Peace, War and Midwifery will be in the next edition of The Strumpet. Kickstarter here if you'd like a copy.
Louisa Parker
louisaparker.com