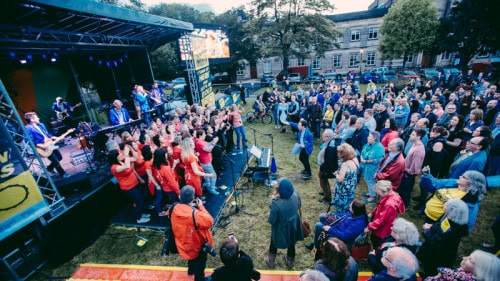 THE DIARY OF INFINITE POSSIBILITY – POST 3:
So, weekend 1 of The Tour of Infinite Possibility is done, and let's be honest, the weather was not exactly our friend. Waking up on a sunny Saturday morning, 7th June, we all thought (hoped) the forecasters had got it wrong. They hadn't. The prediction of heavy rain came true, just as the team started to set up Otley. Was this gig doomed? Who'd venture out in this? Only crazy people, surely?
Lucky for us there are clearly loads of them! The crowds gathered and the excitement built. School children and uke-donning adults in wafer thin blue ponchos stood patiently waiting for their call to the stage.
BBC Radio Leeds were on site and spoke to a local head teacher who had brought 60 children out in the pouring rain so they could perform as part of A Band Anyone Can Join. They were all soaked, but incredible.
Thinking back now, and looking through the photos, all I recall is smiles and laughter everywhere. Otley was a total triumph.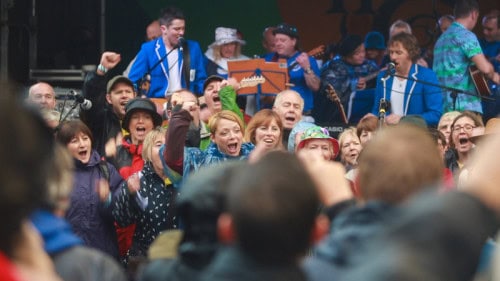 The weather in Grassington was much of the same, and as one lady took her chair to the front of the stage and sat under her umbrella just before the gig began, I honestly thought she could be *the* audience for this one. Who'd venture out in this? Only crazy people, surely?
Lucky for us again it seems there really are loads of them…! This was the gig where everyone was as wet as they could possibly get, and simply didn't care anymore. All around us people danced in ponchos, children splashed around swathed in waterproofs, and one young boy gave us a Gene Kelly style show as he boogied brilliantly around his umbrella.
The rain was relentless. But no one cared.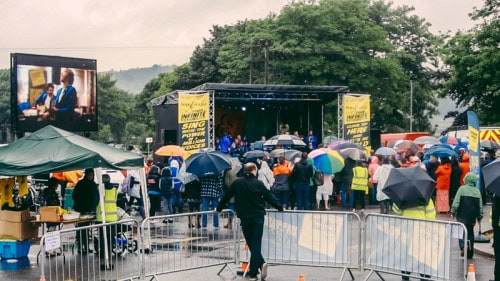 By the time the kit was all packed away (which took the incredible TIP A-Team only about 1-hour after each gig), the clouds had started to break. As blue skies and feeling of euphoria emerged across the team, we delved in to a tasty al fresco crew picnic… just as a muck spreader took to work in the neighbouring field, emitting a beyond-foul pong in our direction. Suddenly we didn't feel so hungry anymore….
So then it was off to Hawes, well, Hardraw to be precise. Now this place threw us a few challenges to say the least, as a tiny village and a pub car park with tight access would for an arena-sized vehicle convoy like ours.
Challenge 1 – How to actually get all our vehicles into the village. Challenge 2 – How to get our mobile stage around a tight bend, through a modest gap, and into a car park already pretty much full of cars. Hmmmm.
TIP A-Team of Infinite Possibility to the rescue! Ok, so the stage ended up looking a little bit 'dumped' (Well it's in and so it's staying there' type thing), and lots of cars were blocked in for the night. But heck, there was good beer, an excited crowd, wonderful participants, great music, and merriment all round. And NO rain! And despite the pesky midges (who must have thought all their birthdays had come at once with so many bodies to feast on all in one place), gig #3 was completely gorgeous. There was something magical about watching such a beautiful thing happen, against a backdrop of lovely rural Yorkshire, as the sun went down on day 1 of this incredible project. I'm so glad I was there. I was there. Wow.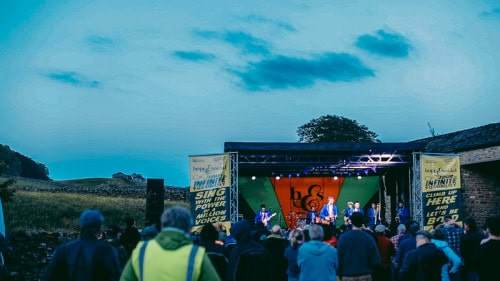 And so on to day 2. The sun shone, breakfast butties re-fuelled a slightly flagging band and TIP Team, and we hit the road again, this time on to Masham. I've got to say the drive so far on this adventure had been amazing. Expertly driven by fabulous Project Manager-come-chauffeur, Ben Denison, the TIP Fun Bus glided through the stunning Yorkshire Dales scenery. And when the sun shines on that scenery as it did that morning, it can actually take your breath away.
Masham is a gorgeous village, and we were right in the market place, surrounded by locals, children, dogs wearing H&S t-shirts… people eating ice-cream, chatting to friends, enjoying a coffee, all basking in sunshine and ready for some fun. Some cycled (to give our stage enough power!), children sang beautifully on stage (most of them probably for the first time ever), and the crowd danced around carefree for what felt like hours.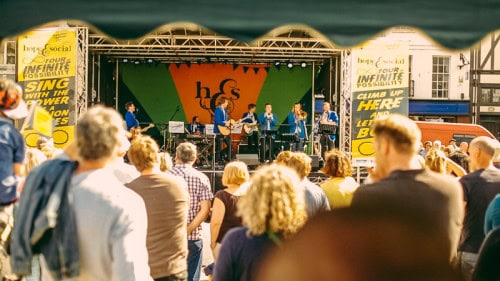 And once again, within an hour after the gig, we were gone. And as the locals disappeared down the side streets and back into their homes, Masham almost looked a bit sad to see TIP leave.
Gig #5 was in Ripon. Still the sun shone down on us, and to be honest by this time we needed the boost. Even smiley Ben had a tired frown etched on his face at this point, which he said he couldn't shift despite best efforts. Although once the Jelly Babies had done the rounds and the gig had got going, the smiles were back out to play.
Ripon was awe inspiring. Our biggest audience of the whole weekend – it actually felt like the whole town was there. The participants looked great – a local school all in uniform (that just so happened to co-ordinate really well with the TIP yellow!), and a uke orchestra all dressed up for the occasion. Every single one of them looked like they were bursting to perform. And they did not disappoint. What a fabulous experience.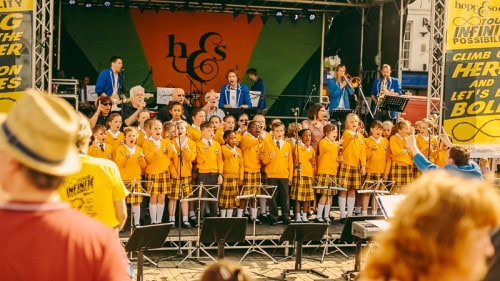 At this point and with a heavy heart, I ducked out. Harrogate was next and at this gig I would be on stage with my choir, Northern Songbirds. We've performed with Hope & Social a few times, and it's always an amazing, unforgettable experience. And this was no different. We sang Dust. We love Dust. It moves me like no other song ever has. We also rolled sideways, slept sound, and went one way home. And rather than go into this anymore, my lovely friend and fellow choir member Kelly wrote about it too, right here.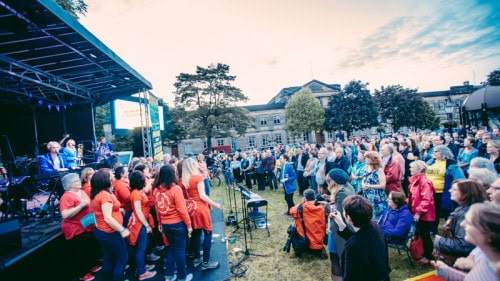 So, what else can I say about weekend 1? It was simply incredible. People came, they saw, and boy did they conquer. In total we had just shy of 500 participants (255 of those were children) and an audience of over 1500.  We've had some genuinely heart-warming feedback from those that were a part of it in some way. There's no doubt that TIP has already left a lasting impact on communities across the six places we touched on those days. It feels beyond magnificent to have been a part of that.
I feel honoured to have been given the opportunity to work on a project like this, and to be able to have made a difference. I have also had the chance to meet and work with some of the most amazing people I have ever known, now my friends, and I truly hope that I will know them forever.
That's what this project does to people. It generates passion for life, love and respect for each other, and makes magic happen.
I can't wait for weekend #2, and I know I'm not the only one.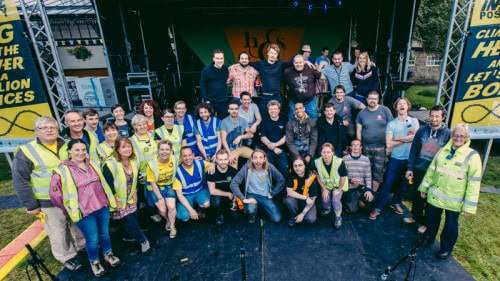 Weekend 2 of The Tour of Infinite Possibility takes place on Saturday 21st June (Knaresborough, Addingham, Keighley) and Sunday 22nd June (Elland, Holmfirth, Sheffield).
Details and free tickets are available at www.hopeandsocial.com/tip
TIP A-Team of Infinite Possibility for Weekend 1 were: Project Team – Kate Beard, Helen Gorton (Producer), Ben Denison (Project Manager), Rachel Auty (Press & Marketing) | Shot By Sodium – Phil Barber & Assistants | Firefly Solar – Stuart Fairbourne & Spud | Isophase – Anton Dunbar & James Locke | Event Equipment Hire – Richard Haigh & Steve | Technical & Stage Management – Jack Thompson, Ros Chappelle, Julian McCready, Simon Fletcher, Tim Rothery, Bob Goff, Mandy Goff | Sound – Craig Rothery | Backstage Academy Students – Zoe Melia, Josh Cliff, Harry Le-Masurier | Security – Lynne Kirk | Volunteers – Annie Latham, Oriel Kenny, Tim Collins, Phillippa Locke,  Anita Barton.