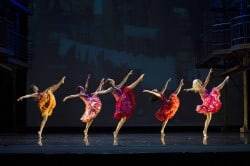 I've seen a fair few musicals in my time – and loved a lot of them – so wasn't sure I could agree with the 'Greatest Musical of All Time' banners I'd seen around in the run up to West Side Story hitting town. It felt like I might be cheating on some of my other all-time favourite shows.
I do love the film and – as chats before the show revealed – was one of many in the audience who had grown up in a house where the original soundtrack (the fabulous one on vinyl with the striking red and back cover) was regularly played. The tunes had become interwoven in to the fabric of my childhood – along with many other musical theatre performances in our living room 'stage' (whilst wearing out the fabric on the back of the sofa).
So, I'll admit to being particularly giddy to get to see West Side Story on the stage for the first time, but would I think it was the greatest ever?
This particular production features the original choreography from the 1957 Broadway show – which has the story-telling and power of ballet in places – and some beautifully simple but simply stunning routines, not least those performed against striking red and green backdrops.
It's of course based on the tragic love story of Romeo and Juliet – you probably already know this is one 'boy meets girl' that ain't gonna end well – and it takes some doing to convince that a young couple from rivalling backgrounds could fall in love with such passion in such a short space of time.
But the talented Katie Hall as Maria and Louis Maskell as Tony really do make you believe that they live (or otherwise) for each other, and Hall's stunning soprano voice and Maskell's smooth tones blend perfectly together too.
Decide if you're a Jet or Shark and enjoy the comedy and costumes throughout. If you can forgive a few shaky accents here and there I think most performances are pretty near perfect.
I've see a few 'Sing-a-long-a…' style shows advertised recently (you can now belt along with the best of them from Sound of Music, Grease and Dirty Dancing) and I for one would welcome the introduction of one for West Side Story. You'll be swaying and tapping along to unforgettable songs such as Maria, Tonight, Somewhere, America and I Feel Pretty, so wouldn't it be nice if you could sing along too? No? Maybe that's just me…
It has a tragic love story, it has rival gangs, it's operatic, it's balletic and it's certainly the best show I've seen all year so far. Would I say it was the 'Greatest Musical of All Time'? I think I'll have to tell you when I really have seen them all…

By @clancywalker
West Side Story is at Leeds Grand Theatre until Saturday 31st May.
Tickets are priced from £15 to £46.
Book online at Leedsgrandtheatre.com or call box office on 0844 848 2700.