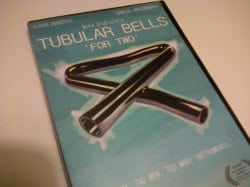 Richard Horsman (@leedsjourno) rekindles a forty-year love affair with the album that launched an airline as a two man live version of Mike Oldfield's greatest work tours West Yorkshire.
Mike Oldfield's 'Tubular Bells' has been a big part of my life.
As a gawky adolescent I first heard the instrumental classic, and saw the cardboard sales displays, in Vallances on the Headrow when my dad went in to buy his Music for Pleasure light classical compilation LPs to play on our Philips Dancette.
Some years later I made love (with the woman who's now my wife, 30-odd years on) while the album played, and our first child was born with the main theme playing softly in the delivery room. It's the 'friends and family' ringtone on my phone. You get the general idea.
Back around 1980 Mike Oldfield played Tubular Bells live at Bradford University Union. I couldn't scrape together the tenner for a ticket and found only too late that I could have blagged a pair of comps from the record librarian at Pennine Radio, where I was just starting to get my knees under the Contiboard table. Moi, je regrette that.
So it was with some anticipation I stepped into the wonderful acoustic space that is The Venue at Leeds College of Music the other night to hear Daniel Holdsworth and Aidan Roberts perform a version of the piece scored for just two players, a dozen or so instruments and some pretty whizzy sampling and looping technology. I didn't know what to expect. I'd been disappointed by the album version of TB scored for a full orchestra (almost back to my dad's old Music for Pleasure standards) and I feel a bit .. protective .. of Mike's masterpiece.  It's been subverted too often, not least in the movies as a soundtrack for horror and porn.
I needn't have worried. The Aussie duo of Daniel and Aidan stormed it to a standing ovation from a good proportion of the audience, some of whom I'd wager had been in the crowd at Bradford Uni three and a bit decades ago.
The pair deliver an energetic performance, Daniel barefoot as he works the tech pedals on what I assume was the sampling machine whilst playing a keyboard with each hand, next required guitar hanging round his waist.
He eyed up his run from the keyboard to the rack of actual tubular bells required for the first half climax with the precision of Mo Farah getting ready to do the hundred metres, whilst also finding time between bars for the occasional nonchalant swig from a bottle. Aidan meanwhile took the first half lead on percussion and bass guitar whilst also contributing vocals, glockenspiel, mandolin and yet more keyboards on cue.
The second half was a revelation. I'd always thought of the 'B side' Part Two of Tubular Bells as a bit of a filler (if an inspired one).
The performers last night instead turned it into a tour de force of battling percussion from opposite sides of the stage, revealing new themes and rhythms in the work I'd never detected in all my time listening.  All too soon we were into the rousing finale of the Sailor's Hornpipe, and the main event was over.
The encore consisted of a medley of themes from the awkward Oldfield 'second album' Hergest Ridge, the ethereal Ommadawn, and an alternative scoring of the end of Tubular Bells Part One which allowed more hardcore steel pipe banging action to delight the crowd.
As I walked away I couldn't help but wonder what the troubled boy genius Mike Oldfield would have made of all the technology.
He recorded his original demo of Tubular Bells on a twin-track tape machine using bits of cardboard over the erase head to allow him to multitrack with the crudest of analogue kit. And I was a bit pigged off by my two neighbours, expansive men for whom the last four decades have been prosperous judging by their girth, who chose to talk through much of the performance.
So if you have a chance to see Aidan and Daniel in action in Edinburgh, or at a venue elsewhere on the tour, take it. It's your chance to learn (or to remember) that there was more to seventies music than Abba and the Bay City Rollers.