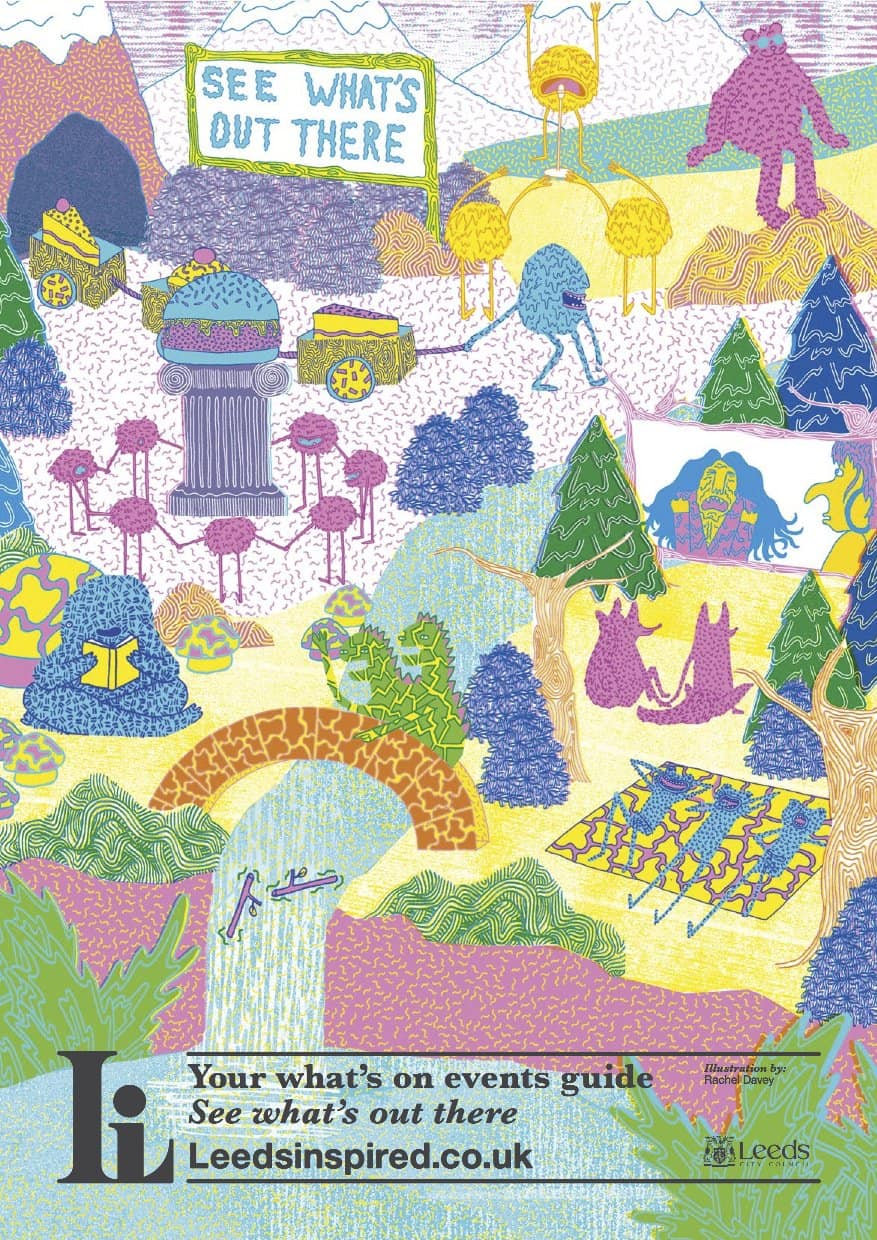 Rachel Davey is an illustrator based in Yorkshire. Her work is hand drawn, before using photoshop to play around with layout and colour – plenty of colour! Wendy Denman stepped out of her monochrome day into a world of bright, beaming beings. Read on for a mini interview and your chance to win her Leeds Inspired poster!
The creatures in your poster look very happy to be here. If you had to live elsewhere, where in the world would you choose?
I don't think I could just pick one place. I would like to live in a magic hovercraft in which I could travel to lots of different places, but I would always return back to Yorkshire.
I love the blue burger featured, pride of place on a plinth. What object or person in Leeds do you think deserves this treatment, and where would we put the monument?
That's a tough one, maybe it would be a burger though. An Almost Famous one (there's one opening in Leeds soon) I'd like it to be dropped onto the big spike of the Quarry House building, James and the Giant Peach style, but much more greasy and with cheese.
What song would you soundtrack your poster with? 
The colours I used have a big summer vibe to them, so I think this fits pretty nicely
Tell us something you're looking forward to.
I'm going to Lublin in Poland in September, I've never been before so I'm looking forward to exploring and drinking lots of Polish beer.
Colourful scene, sweet sixteen, Halloween or Scott and Charlene?
Colourful scene, every time.
 *************************************************
You can see more of Rachel's work on her website here and follow her on Twitter @rachel_davey_

For your chance to win one of ten of these inspiring A3 posters, please answer the question in the comments box below.
Q: Which of Rachel's creatures do you want to be best friends with and why?
The first ten people to respond shall have their walls adorned with dreamy inspirational posterage! You know it.