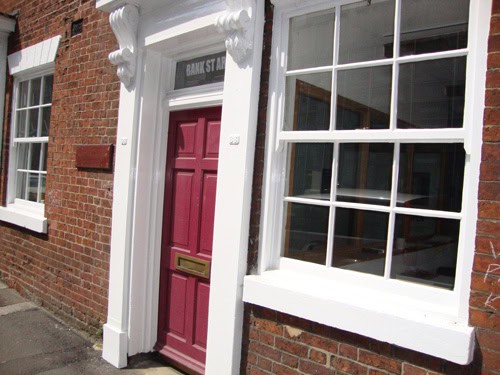 David Gregory gives us the inside track on Sheffield's best kept artistic secret Bank Street Arts.
The Crucible Theatre, Millennium Gallery, Showroom Cinema and other such 'showpiece' venues rightly deserve praise for their role in enhancing the cultural life of Sheffield. But equally important –and no less vibrant– is the smaller scale, more independent arts scene quietly bubbling under the surface. Bank Street Arts is a good example of this undercurrent. Seemingly off the beaten track, it is actually located only a couple of minutes' walk from Sheffield Cathedral in the city's old financial quarter. Yet even today, more than three years after it was established, relatively few Sheffielders are even aware of its existence.
Bank Street Arts was founded in 2008 as a sort of experiment, with the idea of finding out if an innovative arts project could make its own way independent of outside funding and the programming restraints that might entail. Underpinning this basic concept were a number of core aims. Firstly, Bank Street Arts was intended to encourage anyone interested in contemporary art, craft, performance or writing to get involved in a stimulating and meaningful way. The centre also wished to act as a hub for creative practice in the city and provide good quality, affordable studio space for artists and other creative practitioners.
And, despite all the constraints a perennially tight budget has imposed, Bank Street Arts continues to meet, and often go beyond, its core objectives.  The centre provides studio space for working artists, graphic designers, photographers, printers, writers, musicians and many others. But it is the sheer range, diversity and quality of the events and exhibitions the centre keeps putting on that really stand out. Recent highlights have included TEN/TEN, in which ten of the world's most talented graffiti artists and illustrators each spent a day creating a large mural in the main gallery. Meant to highlight the brief lifespan of street art, the work of each artist was then painted over at the end of the day ready for the next artist to begin from scratch. Fortunately the whole process was captured on film! On a very different note, Archive of Exile brought together three artists and three academics to examine the twentieth century European experience of exile and its contribution to radical thought and practice. Spanning three rooms, the exhibition combined music, video and visual display to explore the interconnected themes of nomadism, travel, memory, loss, acts and voices.
And there's plenty more that's new and exciting on the horizon. Pandemic is a forthcoming interactive event whose intriguing slogan "Reclaim Reality!" surely demands closer inspection. October also sees the staging of the 3rd Sheffield International Artist's Book Prize which will be sitting happily alongside Sheffield Dozen, a series of cartoons (thirteen in fact) by renowned local cartoonist James Whitworth. But this is only a flavour of what is currently on the Bank Street agenda. Their website will give you a much more comprehensive overview. And if you like what you see, why not pop in yourself? It's time to reclaim reality.
Find out how to volunteer at Bank Street Arts here.