The first of in a series of features which focuses on the work of MAP, a Leeds based charity for disadvantaged youngsters, as it endeavours to rescue the historical building it has called home since 2007 from redevelopment. Words: VANESSA MUDD
'The battle for Hope Foundry is bigger than just one building, and will take a groundswell of public support to make it happen. This is about what kind of city we all want to live in. It will take many like-minded people who share our inspiring vision for Hope Foundry to make it happen.'  MAP Charity Statement
Here at CV towers we have a keen interest in the preservation of historical and significant buildings in Leeds, along with their established neighbourhoods. Not only do MAP Charity (Music and Arts Production) provide incredible life-enhancing support through creativity for vulnerable youngsters, they want to buy a Grade II listed building.
A campaign with a cultural plan and a moral purpose? Count us in!
MAP Charity was founded in 2007 by Tom Smith, Charlie Stobbart and Kat Soutar to provide alternative provision for students at risk of exclusion. Over the past ten years the charity has established a strong reputation with Leeds' schools, parents and students for the excellent quality of its learning experiences. Its home is Hope Foundry.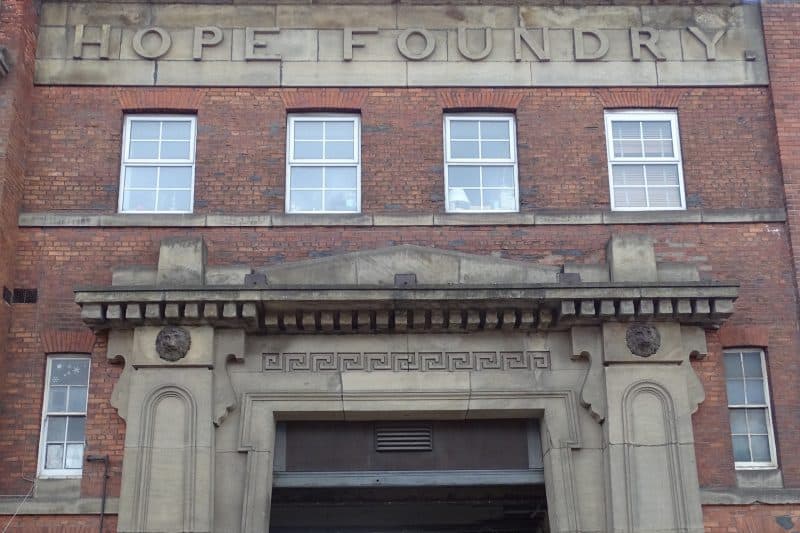 MAP nurture relationships with other like-minded people; they are great role models, actively showing youngsters that working collaboratively is an important skill well worth acquiring.
MAP works with partners to provide access for students in many disciplines from graphics to metalwork, audio engineering to horticulture.
"I don't know anyone else who gets the opportunities I do. There are so many skilled people here to learn from, and it's all in one place," says Yefe, a former MAP apprentice.
MAP has a proven record of success with its students, and a desire to increase their support for vulnerable youngsters while broadening the cultural appeal of Leeds. If they achieve this goal it will benefit the whole of Leeds, not just the neighbourhood communities near Mabgate.
The MAP team clearly enjoy their work – their enthusiasm is heartfelt and the support they provide weaves a thread through Hope Foundry, for which they have a bold new vision.
In addition to widening their provision – by increasing the variety of courses and extending the age range – the charity is now seeking to inspire Leeds by embarking on a challenging fundraising campaign.
The site is under threat of redevelopment into luxury flats. Sound familiar? MAP plans to raise £2.4m by September 2019 to buy and develop Hope Foundry. Modernising and development will include the creation of a kitchen, café, roof-garden and studios, alongside co-working, event, gallery and retail spaces.
Imagine a cultural hub which draws us all in and which, at the same time, underpins the support of vulnerable young people; a plan which doesn't culturally cleanse and disenfranchise its inhabitants and neighbours. We could start discussing a new vision for Leeds.
MAP's plans for 2020 will benefit the whole community and positively contribute to the local economy.
The plans for the buildings are magnificent and will be a real tourist attraction for Leeds and its culture. Any city can do gentrification, Leeds needs to lead the way and create something unique.
More information about MAP Charity here.