Siegmund Freud meets Michael Parkinson. On a sofa. In a bar. Chinwag's creator CHRIS MADDEN talks to VANESSA MUDD about why MAP Charity is close to his heart…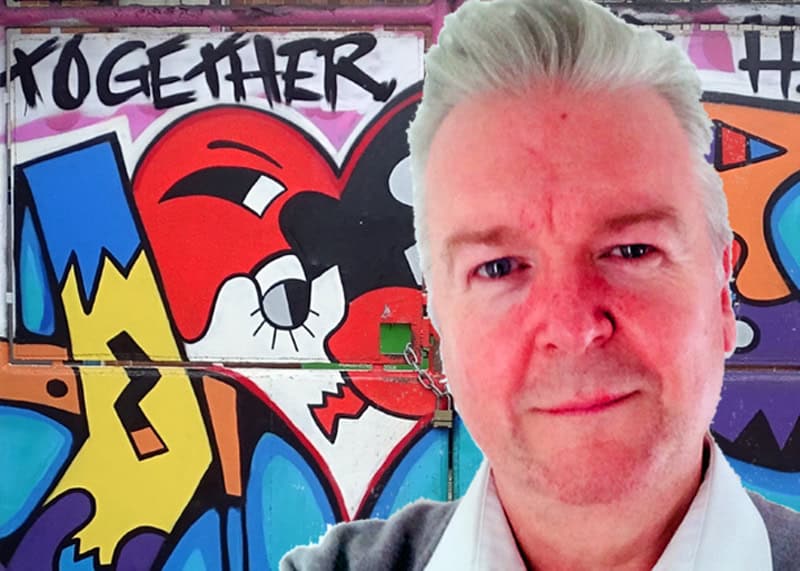 "Trying to raise two and a half million pounds to buy the building that's been our home for the past eight years, that's a fucking large amount," explains Chris Madden rounding off recent Chinwag interview with Real Food Project activist Adam Smith, "but we absolutely believe we can do it. I mean, if we didn't, then why would we even try?"
Chinwag is a fiendishly simple concept. Madden, a qualified psychotherapist, invites a well-known guest to sit and chat with him before a paying audience at the Outlaws Yacht Club in Leeds.
He never plans anything he is going to ask beforehand and the audience is free to chip in.  All proceeds from the evening go to Madden's chosen charity MAP (Music Arts Production), which uses creativity to engage young people who might otherwise fall through the net of mainstream education.
Talking with him beforehand, it quickly becomes clear how important music is for Madden who worked as a music plugger for radio and television before deciding to switch from Neil Young to Carl Jung.
While his guests vary – previous interviewees have included the musician Kevin Rowland and the writer Adelle Stripe – they share in common a certain bolshie creativity. For the Leeds International Festival, Madden has lined up interviews with Cosey Fanni Tutti and Viv Albertine, each inspiring and uncompromising in equal measure.
So how did Chinwag actually begin? Regulars will know that Madden can spin out a marvellously winding tale of people, connections and coincidences when he wants to. As he tells it, plenty of downtime from his bit part in a music video led to a lengthy encounter drinking tea with Creation label boss Alan McGee at his manor house in Wales.
Later when Madden needed an interview guest for a one-off charity event, he approached McGee who turned him down flat, only to ring back a few days later. "You're a therapist. We'll do a live fucking therapy session!" recounts Madden in a pretty nifty impersonation of the notoriously blunt McGee.
In the end they just chatted, but from the encounter grew Chinwag. The follow up (with artist and toy designer Pete Fowler) left Madden wondering about his purpose. He knew he wanted Chinwag to be something more meaningful.
Enter the youth charity MAP. "I got involved (with them) because it touches everything I believe in from creativity to empowerment," says Madden who is passionate about supporting "those young people who haven't got it as good as us. I really scratch my head if it doesn't make sense to people to help others."
As well as fundraising through Chinwag, Madden is a trustee. He reminds us that we can all help others in small ways, Chinwag's guests appear for free and entry is via a donation. Chinwag's moral purpose, he says,  is to "protect the charity to ensure that it exists, (and) to ensure the core provision – the education of vulnerable young people – is maintained."
It's about redressing the balance; doing small things that, put together, create greater things. "We live in a really unfair and unjust world, that's the truth of it," says Madden. MAP evens out some of that unfairness, giving a building block to young people through creativity, academic qualifications and nurturing the self-esteem so vital for success as an adult.
MAP has recently begun to forge links with Leeds Council. Its building, the magnificent Grade II Listed Hope Foundry in Mabgate, has come under threat from urban redevelopment. MAP is "not very well known in many council circles because (the charity) is self-sustaining," Madden explains.
I ask him why the building is so important. "I was asked this by one of the new trustees," he says. "Is there an emotional attachment to the building?" There is for the founders and users of MAP. The place is unique and offers the chance to expand and enhance the provision for the young people it supports.
The development of a cultural hub at Hope Foundry would be a perfect and inclusive fit for the local community. "If we're looking in terms of how cities evolve then I've got a different attachment," suggests Madden. "People who come from Burmantofts will not soon be able to live in that street – and I am not sure that that is good for society."
Madden, as with everyone, connected to MAP, is committed to fundraising the £2.4 million needed to buy and renovate Hope Foundry. Their vision to increase opportunities for Leeds' young people, to provide the city with an important cultural hub and to maintain an inclusive development – as opposed to a commercial one that is socially and culturally divisive and excluding – is an inspiration to us all.
We can all contribute in lots of small ways. "I believe that we all have the resources to become better," says Madden. "That's what we might call potential." Trust him. He's a therapist.
As part of Leeds International Festival, CHRIS MADDEN interviews COSEY FANNI TUTTI on 2nd May 2018 at Outlaws Yacht Club (details here) and VIV ALBERTINE on 7th May at The Wardobe (details here). All proceeds go to MAP Charity. Find out more about its valuable work here.
theCV is supporting MAP through MAP REFERENCES, an ongoing series of features about the charity and its work. Read more here.