It's hard to be downbeat when Yorkshire lands a part of the world's biggest sports event but there was something very resonant in the launch of the Tour de France event in Leeds. Several thousand of us filled the Headrow outside Leeds Town Hall in the snow as the great and the good were escorted up the steps and into the warm grandeur of Leeds Town Hall for a celebratory dinner. Cuthbert Broderick would have soundly approved as the Town Hall's grandeur was designed and built to impose a good slice of Victorian law and order on the unruly people of Leeds with its court room and cells.
Cycling in Victorian times came late, but between 1890 and 1900 a cycling industrial revolution took grip in Britain with phenomenal numbers of bikes, made, sold and ridden. Nowadays 150% more bikes than cars are sold annually in the UK, but the amount cycling on the road represents about 2% of trips
The tour de France allows us a fantastic opportunity to say that cycling is not just for an elite that command our respect and adulation. If we can close off roads for them to sweep past us while we cheer and flag wave, we can close off streets for the ordinary people to cycle too. Why don't we close off some of the central streets of Leeds for a couple of hours on Sunday mornings in the run up to the Tour de France?
If this is to happen we need to be sure that people will turn out and support these 'Ciclovias': this is the name for popular cycling events that originated in Latin America and are epitomized in Bogota, Colombia.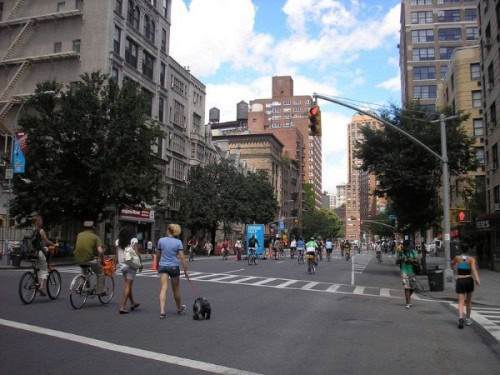 Not only do we need lots of people to come out on the streets, we also need ideas and creativity to make them a true celebration of our cultural life, and reclaim the streets or at least re-purpose them for a couple of hours.
Would you come (with your kids) to cycle around some traffic free streets on a Sunday morning?
Could you come down and set up a stall? or
What would you like to see to make the event special?