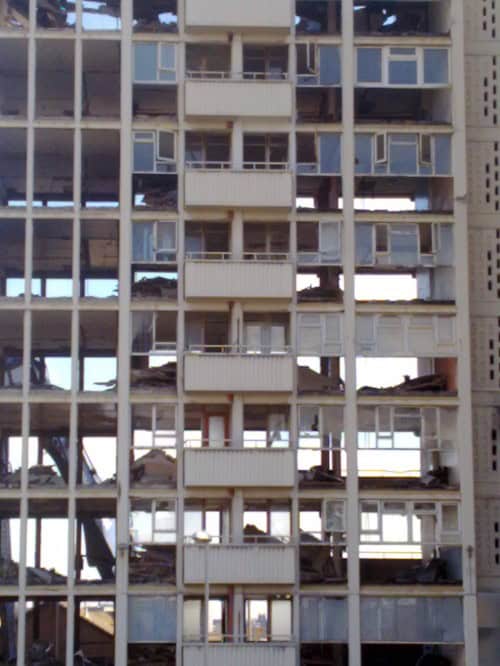 "Glasgow is a magnificent city," said McAlpin. "Why do we hardly ever notice that?" "Because nobody imagines living here," said Thaw… "Think of Florence, Paris, London, New York. Nobody visiting them for the first time is a stranger because he's already visited them in paintings, novels, history books and films. But if a city hasn't been used by an artist not even the inhabitants live there imaginatively."
A few months ago I was sat at one of the first Progress School events talking to Rob Greenland (@TheSocBiz) about how we felt about the city and why we chose to live in Leeds. Rob's originally from Liverpool but he's been here years. One of his most interesting observations, something that only an outsider could have picked up on, was that people who live in any part of the city, whether it's Middleton or Moortown, Hyde Park or Holbeck, talk about "going into Leeds" when we venture into the metropolis. We don't go to the city centre or go to town, we go into Leeds. In no other city would they say that. Which is odd. What is it about the place that even the people who live here don't identify with it, or see the city as something separate?
Partly I think it's to do with something that the quote from Lanark by Alasdair Gray, one of my favourite books, touches on; we seem to inhabit the city but don't really live here imaginatively. Right now I'm sat in Beeston Hill looking out of my living room window, two flights up, looking down on Leeds sprawled out higgledy-piggledy like lego dropped from a bucket. There's some of the old buildings I remember as a kid, the university – a proper Ivory Tower – and the Town Hall, Civic Hall, and I'm pretty sure I can spy a sliver of Park Row. But I'd be hard pressed to say where the centre was. The skyline is cluttered with some of the most vapid, vacuous, and often completely vacant office blocks, and apartments that look like they may as well be office blocks. Development, in a word. And, in the mile or so it takes to walk into Leeds there's what one local councilor recently referred to as the "Donut of Despond," a space that's really, in the good old Yorkshire phrase, neither nowt nor summat.
My little slice of the donut, Holbeck, isn't faring very well. There hasn't been a supermarket in the area for years – nothing replaced the old KwikSave when they went under a while back and the likes of Tescos won't touch the place. All but a couple of pubs have closed down, some like The Spotted Cow have been trashed and gutted by vandals, and the ones that are left, even the beautifully quirky Brittania, have degenerated into shabby, seedy little places, no more than a day centre with a license. Holbeck has also recently been subject to some radical urban intervention, blocks of flats torn down – including the Towers my grandparents were shifted into during the last swathe of urban cleansing when the smokey old cobbled streets were replaced by small 70's centrally heated boxes, and where they died soon after – and whole streets of old back-to-back terraces levelled, leaving just rubble and dust. You wouldn't even know what had once been there. All that is solid had been pulverized and scattered to the winds. This is called regeneration.
I don't know where I am anymore. And it's no good looking at the official Leeds websites for any orientation or enlightenment. Leeds, Like it or Lump it has lots of facts and figure, lots of stats, plenty of quotes . . . but I can't say I recognise the place. "The city offers an architectural mix of old and new, with stylish modern flats sitting comfortably alongside red-brick terraces and elegant Victorian homes." That's nice, but it's not Holbeck. Same goes for the "cultural offering," which I take to mean something that might help me get an imaginative grip on the place; "The cultural offer is just as strong, and Leeds is the only English city outside London with its own repertory theatre, opera house and ballet companies." That's miles away from my experience. Certainly, it's nice to have those things, and I wouldn't knock them, but aren't they there to impress the tourists, or for when you want a special trip? I've never been to the ballet, never seen an opera, and go to theatre so infrequently that it's not worth talking about. I'm as likely to go to London or Manchester even to see a play anyhow. Those iconic cultural organisations don't really figure at all in the way I imagine Leeds. Give me The Grove or The Brudenell any day.
So, I've been brooding about these things for the past couple of days – what is Leeds all about, how can we imagine it better, and what sort of culture makes the place livable, a good place to call home? – brawling on Twitter and getting into a bit of a tizz over a few pints down The Midnight Bell. I'm feeling more and more disconnected from "Leeds" and increasingly disillusioned and demoralised by the official narrative that steam irons and sanitizes a pretty messy, dirty reality, and doesn't sound that appealing anyhow. I'm quite happy to be marginal. Most of the stuff I care about happens in the margins of the city, in the outskirts. Look at Neil's post and the comments . . . it's obvious that the real creativity going on in Leeds, the genuinely vibrant, lively, fun, interesting stuff is happening outside the centre in eccentric places like Mabgate, Chapel Al, Holbeck, Armley, Headingley, Hyde Park. There's certainly no lack of imagination in these places or shortage of people telling fascinating tales and putting on exhilarating events. What seems to be happening though is that we're all doing it in isolation and there's no sense of circulation. This is probably a physical thing in the sense that the city itself hardly encourages movement around the edges, crabwise, sidewinding.
I tried to walk to Armley last week. a couple of miles, and I can see it from my window, but it took nearly an hour, half of which was stuck by the side of the road watching cars crawl by. Not a pleasant experience. But that aside, it does make sense that we join the dots, cross our wires, and maybe even share our different premises. Maybe then we'll be able to inhabit the city with an imagination expanded into the margins.